Feeding The Soul With Pamela Morgan
Anatomie Blog
24 Jun, 2020
If there's one thing that this pandemic has taught us, it's definitely how important it is to cook for friends and family. During this crazy time when so many of us are home together, cooking as a family can help heal us both inside and out.
We sat down (or should we say stood up) with professional chef, Pamela Morgan, to chat about her love of cooking, her side gig as a cabaret singer and her favorite Anatomie pieces in our latest IG Live with Co-Founder Kate Boyer. They regaled us with some fun-filled stories and, of course, some amazingly delicious soup!
Pamela's favorite Anatomie pieces? Our Alana Windbreaker in Pink Rose Garden and Flo Tank in Navy! These versatile pieces are perfect for both travel and for cooking or hosting at home, with a comfy feel and a lightweight design that's super easy to layer (it can get pretty hot in the kitchen). Kate wore our beautiful Marine Wrap Dress in Navy on her end, one of our most comfortable and flattering designs.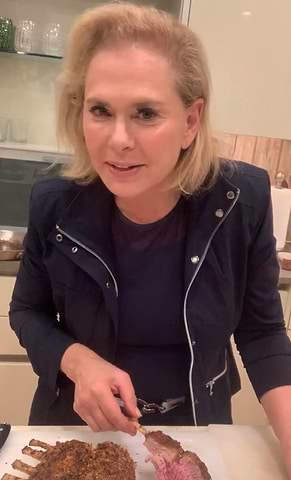 This IG Live was done in support of GivingTuesdayNow and Anatomie's initiative to give back to the community. For the month of May, Anatomie donated a portion of our proceeds to support Feeding America through the ShoppingGives platform. We are proud to support this amazing cause and are so thankful that so many customers and community members also participated in this initiative.
To continue our celebration of food and Feeding America, we would love to share Pamela's recipe with you to cook at home with your friends and family. And if you'd like to join us in the initiative to give back, please click here to learn more about how you can participate with Anatomie.
Happy cooking and enjoy!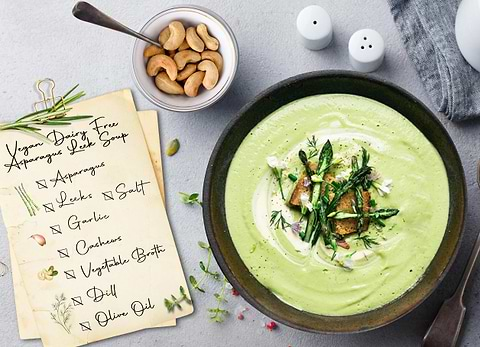 DAIRY-FREE LEEK & ASPARAGUS BISQUE
PREP TIME: 15 minutes
COOK TIME: 30 minutes
TOTAL TIME: 45 minutes
COURSE: Soup
SERVINGS: 2
INGREDIENTS:
- 1 cup white & pale green part of leek, finely chopped & washed well
- 2 cloves garlic, minced
- 2 tablespoons extra virgin olive oil
- 1 pound asparagus, trimmed & cut into 1-inch pieces
- 6 cups chicken broth (or vegetable broth)
- 2 tablespoons dill, plus more for garnish
- 1/3 cup cashew cream
- 1 toasted baguette for dipping (optional)
INSTRUCTIONS:
In a heavy-duty medium pot, heat the olive oil. Then, cook the leek and garlic over moderately low heat, stirring, until the leek is softened (about 4 minutes).
Add in the asparagus, broth and 2 tablespoons dill. Simmer mixture, covered, for 10 to 12 minutes, or until asparagus is very tender.
Purée two-thirds of the mixture in the Vitamix or blender until it's very smooth.
Stir the purée into the mixture remaining in the pan. Season with salt and pepper to taste.
Serve your soup with a garnish of dill and a tablespoon of cashew cream.
PAMELA'S TIPS & TRICKS:
Garnishing a soup (or any dish for that matter!) is a nice way to make it look like a pro cooked it and served it. You can drizzle the cashew cream on top or simply take a sprig of dill and place it on top of the soup. Done – you'll look like a pro (and feel like one, too)!
Want even more amazing cooking recipes from Pamela? Be sure to follow her on Instagram at @flirtingwithflavors and @pamflavors. You can also check out her website here for even more!