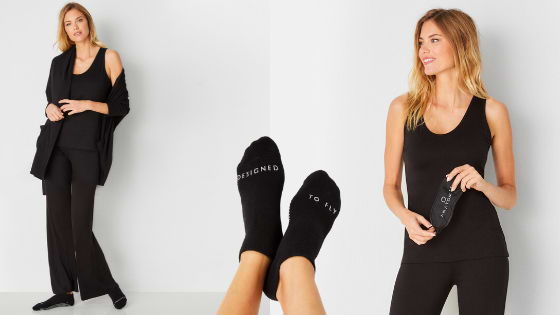 Why You Need This Comfy 3-Piece Set In Your Life
Anatomie Blog
19 Mar, 2020
While you're planning to stay at home for the next few weeks, you don't want to completely forgo style. You need an outfit with versatility and comfort is of utmost importance.
With the right pieces, you can fashion an outfit that is perfect for lounging at home, or working in your private office. Our newest release, this three-piece womens' set features all the luxurious, yet comfortable items you need for a complete look that's perfect for everyday use.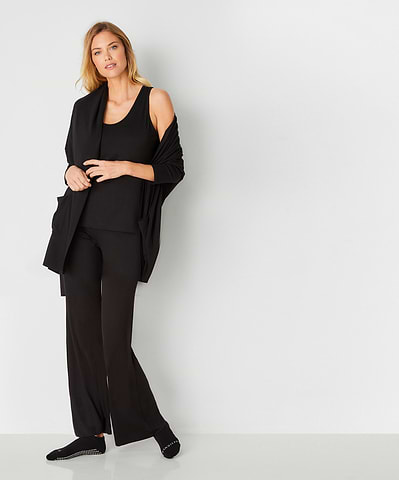 What Does the Three-Piece Set Include?
The fresh, functional three-piece set from Anatomie includes a top, pants, and cardigan for just $249! Here is a closer look at each piece:
1. River Comfy Basic Tank
With a rounded scoop neckline, slim fit, and sleeveless design, the black River Comfy Basic Tank is the epitome of versatility. This wear-anywhere loungewear tank is designed to keep you comfortable, cool and totally chic, whether you're working or relaxing. Layer it with your favorite Anatomie jacket or our new Dakota Cardigan. 
2. Dakota Comfy Basic Cardigan
The lightweight, wrinkle-resistant black Dakota Comfy Basic Cardigan fits within any wardrobe, allowing you to stay stylishly warm and cozy. The cardigan features a modern, flowy, open-front design that lets you wear it over a tank top or bralette and cuddle up on your couch with a good book or movie. You also can throw it on or tuck it away in your bag when you're heading out to eat, work, or go shopping.  
3. Harlow Comfy Basic Pants
Looking at the sleek and stylish Harlow Comfy Basic Pants, you might never suspect how cozy they are. They easily blend into both a chic, put-together look for work or luxe lounging outfit.
Designed with Anatomie's signature wrinkle-free stretch material, a comfortable mid-rise waistline, and relaxed fit, these women's loungewear pants are bound to become one of your wardrobe-essentials, quarantined or not. 
Why #everydayanatomie?
When you're planning to spend a day at home or lounging with friends and family, you want to be comfortable. However, when it comes to an everyday outfit, it's equally important to include versatile pieces that are also suitable for running to the store or even meeting with clients or doing a video-conference from your home office.
Anatomie's luxury women's loungewear set has mastered the critical components of everyday fashion by perfectly blending comfort and flexibility with style and sophistication.