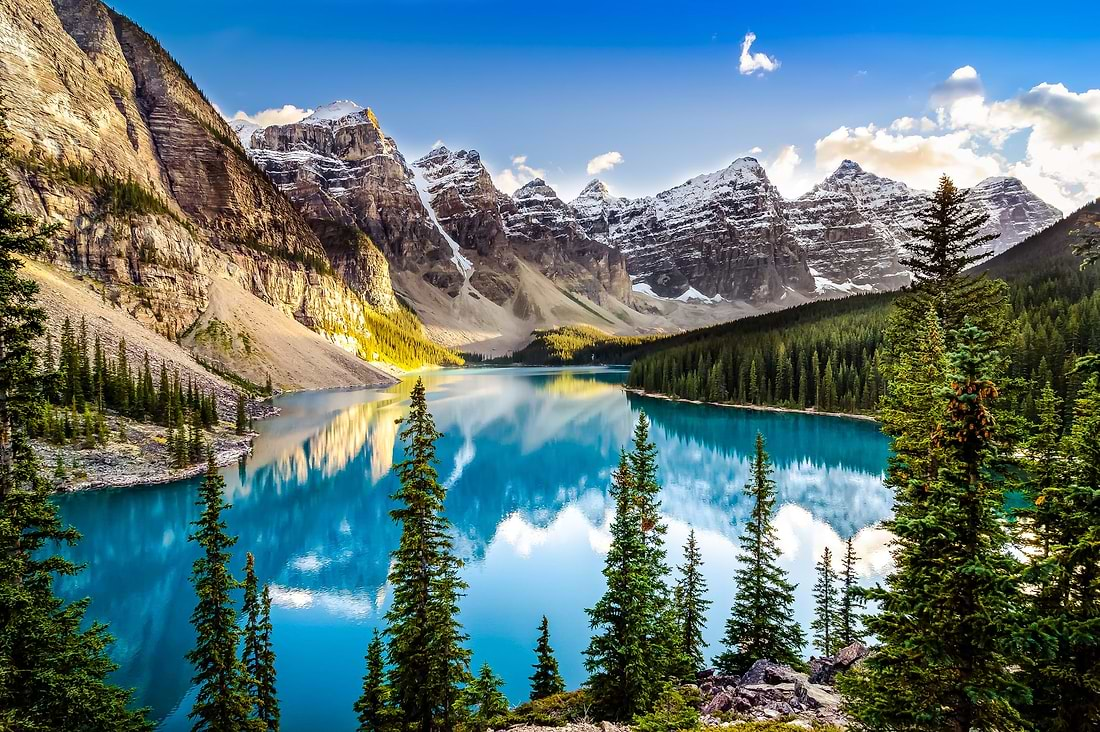 Why Banff Should Be on Your Summer's Travel List
Anatomie Blog
21 Jun, 2019
There is nothing better than perfect timing. Add to this old truism that if you have the perfect clothes for a vacation, you should pack immediately. You're an adventurous but always comfortable and stylish Anatomie client, so you can plan and execute as we speak.
Banff, the not yet overly famous National Park in Alberta, Canada is a breathtakingly beautiful place that borders on the impossibly bitter cold in Winter. However, right now (early June) until mid-September, it boasts consistent 60 degrees Fahrenheit temperatures, ideal for taking in the views of crystal lakes, enchanted forests and snow-capped mountains against spacious skies.
If you could go for pristine air and that "let's pretend we're in Switzerland" feeling; if you're beginning to not look forward to the sooty smell and sticky heat that ail many of our cities from now until the Fall, Banff is financially doable and much closer relief. With the adequate Anatomie attire, this trip could prove to be a refreshing change from the other 29 summer holidays where you have dipped yourself in sunblock and laid on a beach. And you don't even have to leave North America!
A one-week stay should meet your expectations unless you get trapped in the spell of the irresistible landscape and activities menu -from rafting and paddling to stunning scenic drives, to safely communing with the local wildlife (perhaps a gentle moose might decide to traverse the road you're driving on; there are multiple wildlife crossings). The downtown section of Banff itself houses shops, galleries, and a native museum. Historic guided tours are also easy to engage. Remember to arrange for and purchase Park entrance tickets.
Car and vehicle rentals including scooters and bikes are readily available, as are all the comforts and amenities in a range of hotels, bed and breakfasts, mountain lodges and chalets, and even RV sites and camping facilities. Picnic grounds are also quite suitable and the food everywhere is a delicious experience to be had, locally created and served with several regional beers and wines.
So you know what to pack: In general, light gloves, scarves and of course, the practical footwear are recommended. From Anatomie, you'll have your jeans and cargos, lightweight jackets, long sleeve tops and warm layers that can be piled on or removed at will.
Viola Fleece Lined Studded Travel Jacket
So, Banff, there you go! If it's a cool summer you seek, do not wait until this different form of paradise gets too cold.
Get set. Carpe Diem.
Show us how you wear it #EVERYDAYANATOMIE
Tag us in your travels for a chance to be featured! Become an insider and get 10% off your first order, site-wide!