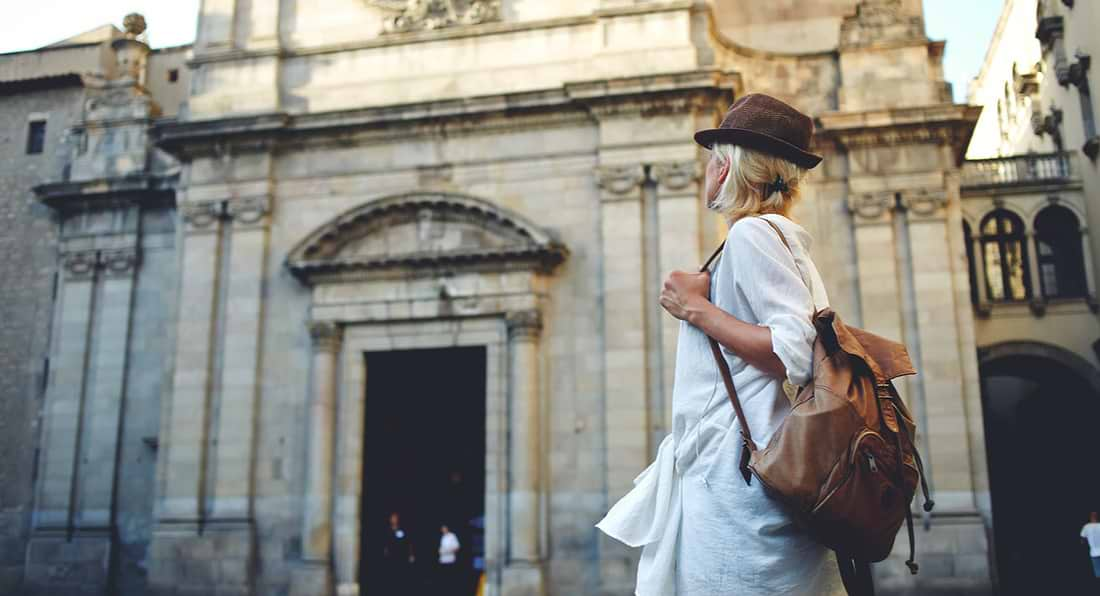 What to Wear Backpacking: Women's Backpacking Clothes
Anatomie Blog
08 Nov, 2018
Travel doesn't always mean five-star hotels and formal parties. Sometimes, you want to get outside and enjoy the beauty of the world around you. But just because you're planning to hike or backpack on your next vacation doesn't mean you can't look great. Anatomie's lightweight and wrinkle-free travel clothes are the perfect fit for your next great adventure.

If you are more of the type to put on a pair of hiking boots to explore the cities and countries you find yourself moving through, here are a few backpacking outfit ideas you should keep in mind.
A Lightweight Cargo Pant
Whether you prefer the silence of nature of the chaos of the urban jungle, if you plan to do any backpacking, you'll want to ensure your backpacking wardrobe includes a pant that not only looks and performs well, but also comes with many pockets to keep all your essentials handy.
The Kate Skinny Cargo Pant is a great option to consider. The material is designed to hug your curves and look amazing, but is breathable for all-day comfort. It has front side pockets, back pouch pockets with snap closure for security, and front cargo pockets for stashing all your small items on the go.
The Kate Skinny Cargo Pant comes in five colors, with sizes from XS to XL, ensuring your next backpacking adventure leaves you looking as polished and put together when you return as you did when you left.
An All-day Pair of Pants
Depending on the weather, you might prefer to wear a comfortable pair of pants for your backpacking trip. If that's the case, the Luisa Skinny Jean Pant is a great option. These five-pocket jeans are made of a breathable and wrinkle-resistant fabric, designed for all-day wear. The silhouette is designed to flatter even while being comfortable enough to tackle whatever the trail might throw at you.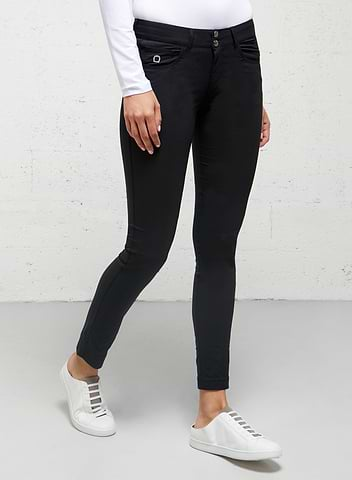 The Luisa Skinny Jean Pant also offers UPF 50+ protection, ensuring you are protected from the sun, so you can feel confident trekking to wherever the path might lead you.
A Comfortable Travel Top
Once you have the right pair of pants, it's time to start completing your backpacking wardrobe. The Kim Mesh Sleeve Top is a great piece to have on hand. It is made of a sturdy but lightweight fabric that won't wrinkle at the bottom of your backpack, but has a silky feel and a flattering cut.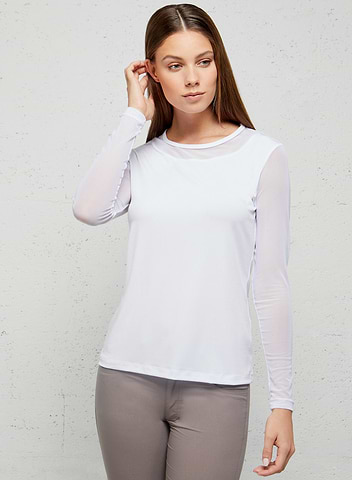 The piece has a crew-cut neck, but the long sleeves are made of a breathable mesh, making it a great option for adventures in a wide range of terrains and weather conditions. With this top as one of your travel essentials, you'll always be ready to hit the trail looking and feeling ready to conquer.
A Stylish Travel Jacket
As much as we would prefer otherwise, Mother Nature doesn't always cooperate with our plans. You'll want to have a great windbreaker as part of your backpacking essentials, and the Metallic Travel Merika Windbreaker hits all the highlights.
It has a relaxed fit and a mesh lining, and is made of a silky, lightweight fabric that stays wrinkle-free and is water resistant. The removable hood ensures it is flexible enough to step up to the plate no matter what situation you encounter, and the high collar can be worn folded down, or as a funnel neck. If you plan to spend time outdoors in locations where rain is plentiful, this is an absolute must.
A Jacket with Plenty of Pockets
A jacket with plenty of pockets. Sometimes, a windbreaker, no matter how stylish, isn't quite right for the job. That's when having a stylish safari jacket on hand is a great option. The Kenya Safari Jacket has plenty of pockets to ensure you have places to stash everything you'll need while out enjoying your adventures. It is slim fit, with a nipped-in waist to ensure you can continue looking put-together, even in jacket weather.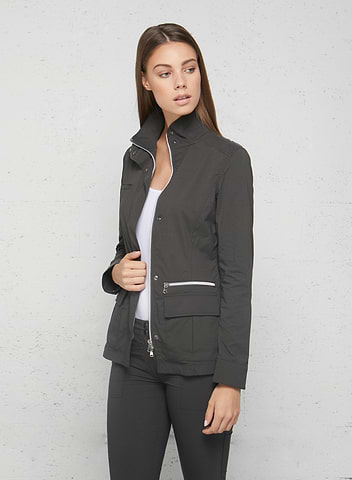 Like the rest of the Anatomie line, the Kenya Safari Jacket is wrinkle-resistant, making it a great piece to have as part of your lightweight travel clothes options.
There are many things you need to think about when putting together your backpacking essentials list as you start packing for the next great adventure. But don't settle when it comes to clothes. You can look just as stylish on the go as you do in the boardroom — with these pieces in your backpacking wardrobe, you'll always be confident that you look as good as you feel, no matter what you're doing.