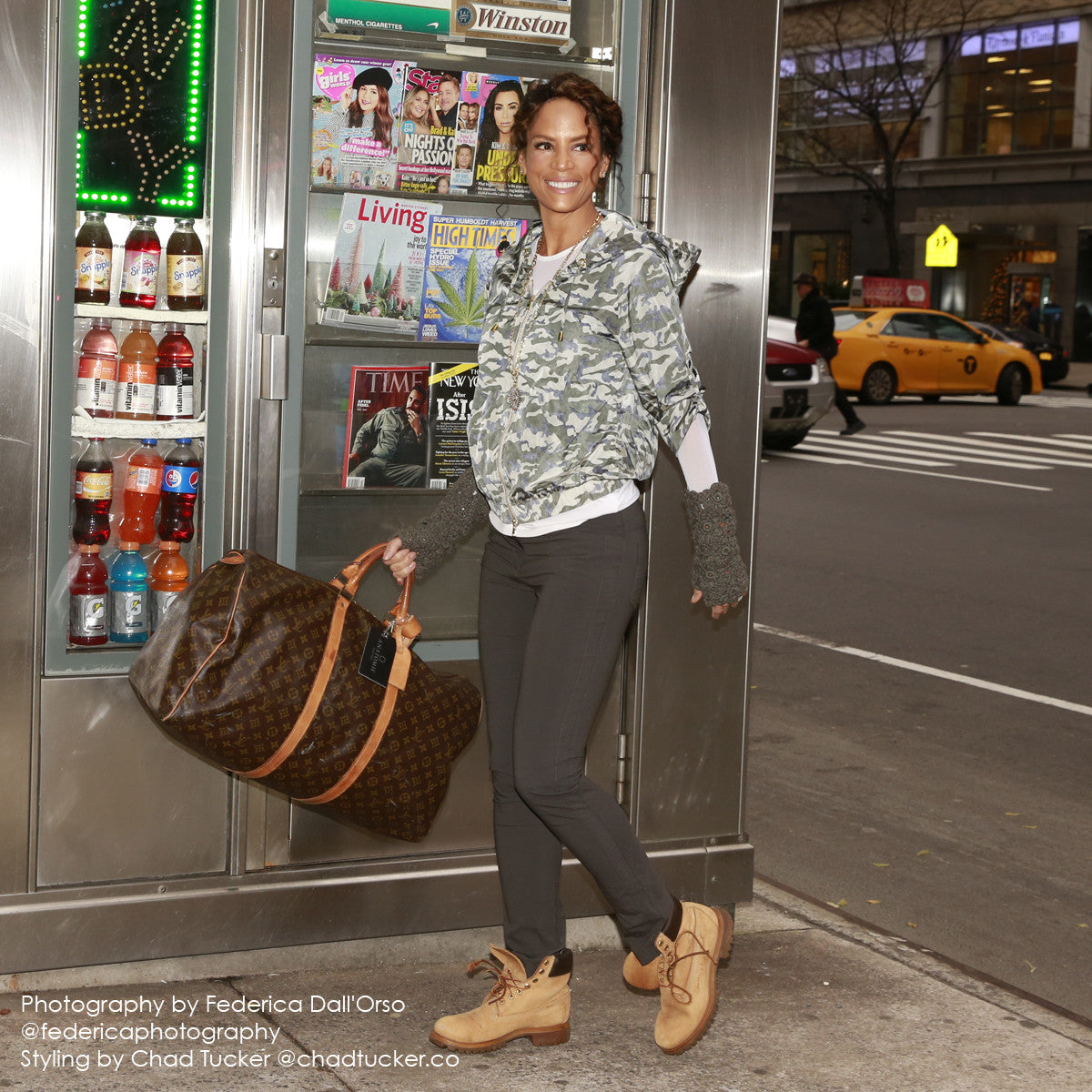 Travel Wednesday: Style Secrets from Supermodel Veronica Webb
Anatomie Blog
28 Dec, 2016
Veronica Webb is a pro on traveling in style. Known for being one of the first African-American supermodels to break barriers in the beauty and fashion industries, she continues to inspire with speaking engagements all over the country, collaborations with major brands and campaigns and her lifestyle blog WebbOnTheFly.com. The busy wife and mom recently teamed up with Anatomie, combining pieces from our fall and essentials collections with her signature urban style to create a chic on-the-go story in the streets of NYC. Be sure to check it out on her blog!
"The idea is you want to look professional, polished and fabulous, no matter what you're doing—if it's an early morning flight or early morning drop-off," she says.
Veronica not only found Anatomie to be the perfect complement to a fast-paced lifestyle, but was drawn to the craftsmanship of the designs. Her personal favorite: The Skyler Skinny Pant. "These clothes are beautifully made. When you turn them inside and out, the seaming is beautiful," she says. "The fit is incredible—and I'm incredibly picky about fit, as you can imagine."
Veronica, who was recently featured in the New York Times Fashion & Style Section and will be teaching a course on branding in the fashion industry at New York University, talks style, travel and NYC hotspots with Anatomie.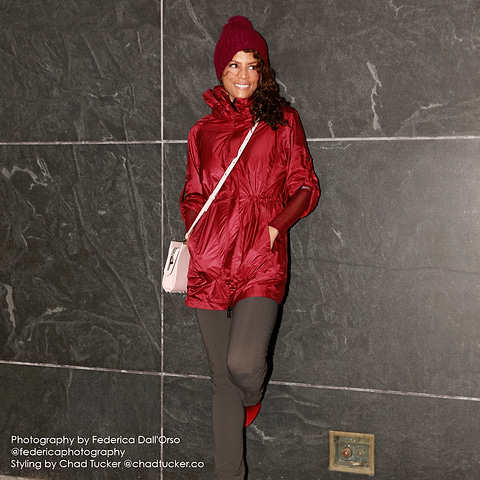 Shop Veronica's look: The Merika Windbreaker, The Kim Mesh Sleeve Top and the Skyler Skinny Pant. 
What was your inspiration for the Webb On The Fly Anatomie story?
"I've always been on the fly, having been a supermodel. Now being a mom and doing a blog, I still want to look just as glamorous, in real world jet-set style. The story is an urban getaway around Lincoln Center. I could be leaving on a 6am commuter flight, which I do for public speaking engagements. It's just around midnight when I get back home because I don't like to spend a lot of time away from my family.
The idea is you want to look professional, polished and fabulous, no matter what you're doing—if it's an early morning flight or early morning drop-off, which a lot of moms who travel can relate to."
Describe your personal style…
"I live for comfort and I'll chill for style. I'm super active with running, skating. Anything my kids want to do, I do. If they want to throw the football, practice photography in park, I'm right there behind them. I want to feel like a kid and dress like a lady. For me, '90s style is so iconic because it was influenced by hip-hop and grunge. Those elements are still part of my everyday style. Just like those songs still live in my workout playlist. The Skyler Pant with old beat-up Timberlands, with the Buda Mesh Top, Crosby Camo Windbreaker, Louis Vuitton bag and diamond medallion? That's me. That's a mash-up of hip-hop and punk, Paris and all the things I continue to be inspired by everyday."
Why is Anatomie a great fit for your style?
"Anatomie's a great fit for my style because it looks tailored. If I wanted to, I could work out in all that stuff. I could go through a whole day, work out in that stuff, then come home and wash it in the sink and wear it to a meeting the next day. The neutrals are neutral without being drab. The colors are totally on trend. It's easy, no matter where you're shopping, to pick up something new to complement these pieces.
And it's not a sweatsuit. There's a time when your kids are under five that you're confined to a sweatsuit. These clothes are a fabulous alternative. They're not just for travel. I would send these to someone with small children who wants to look nice everyday for drop-off and the playground and their job."
You've worn a lot of amazing clothes. How does Anatomie stack up?
"My mother taught me everything I need to know about quality because she made all our clothes. These clothes are beautifully made. When you turn them inside and out, the seaming is beautiful. The fit is incredible—and I'm incredibly picky about fit, as you can imagine.
They're slimming and comfortable without being constricting. There's no one in the world without figure flaws. It's just dressing for them, to play up your best features. There's no such thing as perfection; it's the illusion of perfection. That's the fun of fashion, that you can create those illusions. It's great clothes and tailoring that help you do it."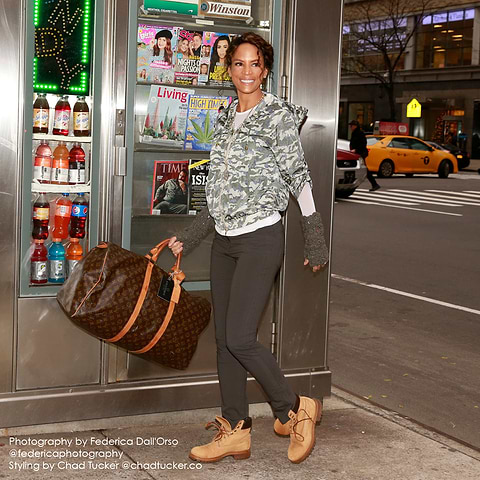 Shop Veronica's look: The Crosby Windbreaker, The Buda Mesh Top and The Skyler Skinny Pant. 
Favorite pieces?
"The Skyler Pants are just amazing. It's super hard to find great basics. I can see how they fit a lot of different body types. I'm curvy and I have difficulty finding jeans that are small enough for my waist and generous enough for my hips. These did the job without being a pair of leggings. And the Kim Top with mesh sleeves. The burgundy is such a beautiful color and it looks good on everyone. I can't imagine who it wouldn't look good on."
Love the way you rocked that Crosby Windbreaker in camo…
"One of my big things on my blog is decoding the look and what makes things look fabulous. Because they added navy to this camo print to make it more abstract and artistic, it looks really updated."
How long have you lived in NYC?
"I've lived in New York since 1985."
What are your favorite things in the city?
"Central Park is my first love. In a city that's famous for buildings and people, Central Park is for me, an American masterpiece. Our museums are incredible. One of my favorite unsung museums is the Cooper Hewitt, Smithsonian Design Museum.
There's nothing in the world like the Met. And the food in New York is out of this world."
Packing advice for someone visiting NYC?
"Get a really sharp-looking pair of patent leather sneakers and put pretty laces in them. That way you can walk around 24/7 and look fantastic. Bring a crossbody bag because you really want to be hands-free. There's so much to see and do, you don't want to be stuck with a bag. Via is the best app for riding around town. It's five bucks anywhere you want to go."
What's your favorite travel spot?
"I'm so lucky to have been so many places, it's almost like saying, 'Who's your favorite friend?' of your homies that you grew up with. But Paris always takes my breath away. It's the place where I first tasted professional success. It's the place that opened my eyes to people living and dying for art and beauty 24 hours a day. And you see it in every building, in every plate of food, in all the beautiful shop windows.
I'm lucky to have seen most of the beautiful buildings and monuments in the world, but I'm really looking forward to going on safari with my family and seeing the big five!"
When you travel, carry-on or checked baggage?
"I always always always try to do carry-on no matter what, just because I don't want the stress. And I feel like you just want to go on vacation and not be worried about anything. The airport and the flight is the most stressful part."
Next on your travel bucket list?
"We're going to Hawaii at the end of January for my sister's 60th birthday. I've never been there but my mother was stationed in Hawaii during the war. I'm looking forward to seeing where she served."
Click here to check out Veronica's Anatomie story on her blog, Webb On The Fly.