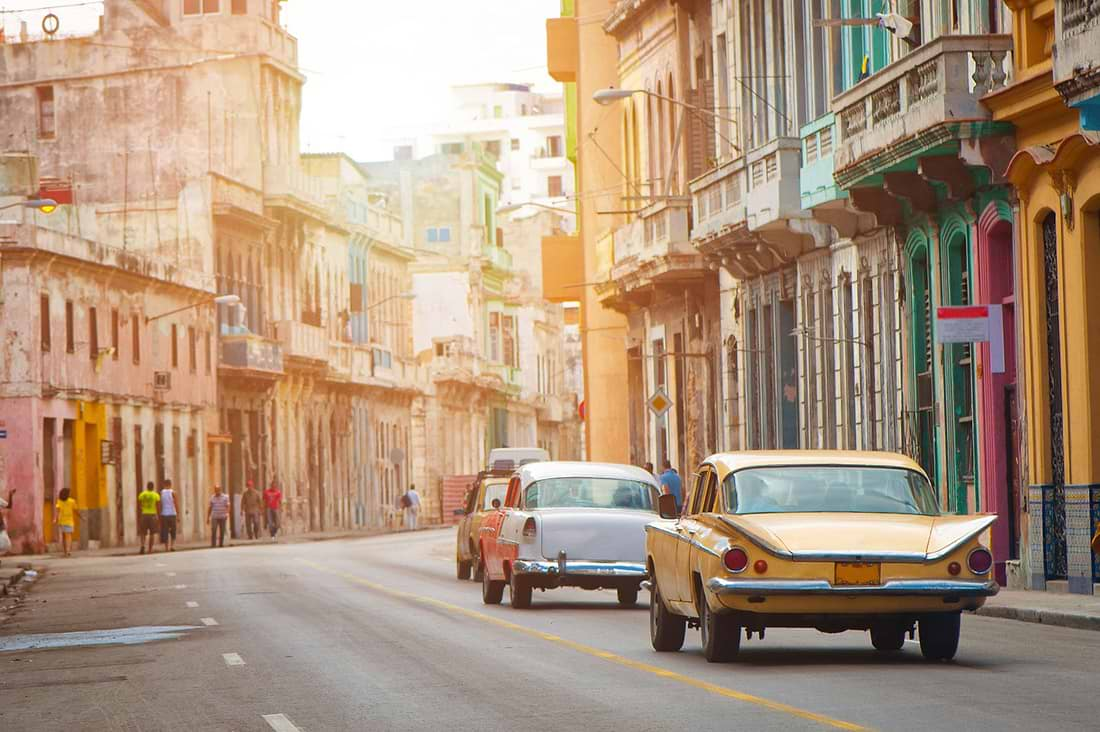 Travel Tuesday: The Intrigue of Cuba
Anatomie Blog
18 Oct, 2016
The Caribbean's largest and until recently, most off-limits island has become a travel hotspot overnight. From sugar-white beaches to rolling mountains to lush tobacco fields, Cuba is known for its vibrant beauty. Art Deco buildings in pastel hues and 1950s-era cars lend old school charm, while live salsa, jazz and rumba contribute to the rich cultural vibe.
"I was born in the city of Cienfuegos and came to the United States when I was eight years old, but I have great memories from when I was small," says Rachel Castillo, Anatomie's assistant shipping manager. "There are a lot of places and adventures for everyone to enjoy." She recommends a visit to Cienfuegos on the southern coast. Dubbed La Perla del Sur (Pearl of the South), the seaside city was founded by French immigrants and features gorgeous Parisian neoclassical architecture. Trinidad is another must-see. The central Cuban city contains some of the finest Spanish colonial mansions, plazas and churches with horse-drawn carriages traversing the cobblestone streets. And of course, the capital city of Havana can't be missed. Considered one of the most culturally rich urban centers of the world, it's a mixture of Spanish, African, Caribbean and American influences. The historic neighborhood of La Habana Vieja (Old Havana) is a UNESCO World Heritage site, brimming with 900 landmarks, including the celebrated Presidential Palace and Cathedral Square. Rachel also loves the Peninsula de Zapata, an idyllic playground for nature lovers, snorkelers and scuba divers, in southern Cuba. "It's fun to go there with family," she says. "There's a beautiful swimming hole which resembles a huge tropical fish tank."
Other cities to see include Santiago, Santa Clara, Baracoa and Camagüey. And while there, try all the local specialties. Rum is the national drink; it's found everywhere and very inexpensive. Traditional delicious dishes include arroz congri, black beans and rice; churrasco, skirt steak with chimichurri sauce; ropa vieja, stewed beef with vegetables; lechon asada, grilled pork with citrus garlic marinade; fried sweet plantains and puff pastries filled with guava.
For the first time in 50 years, tourists can take commercial flights from the U.S to Cuba, but there are still restrictions. A trip must fall within one of 12 categories, including visits to close relatives, professional research and organization of a professional event or competition. Travelers can go independently or with a tour operator on educational people-to-people trips (defined as "meaningful interaction between the traveler and individuals in Cuba"), but must have a full-time schedule of activities and keep documents that show how they spent their time. Basically a beach vacation is taboo; an art, dance and cultural immersion is acceptable. Check with your travel agent or tour operator for more details.
Shop Anatomie's Travel-Ready Essentials