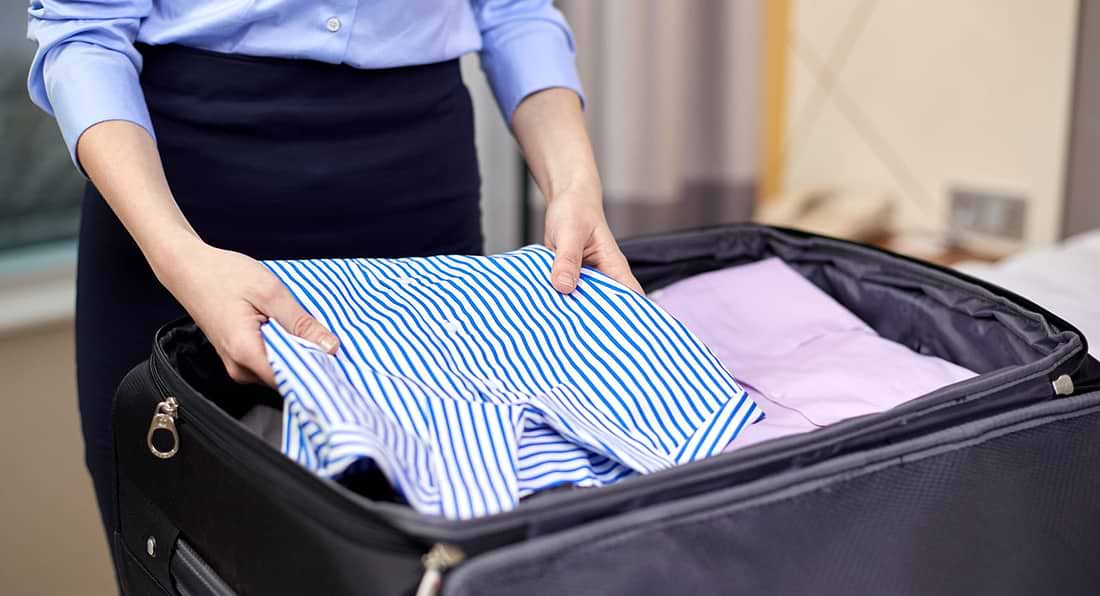 Packing for Comfort and Style While Traveling for Business
Anatomie Blog
24 Oct, 2018
At some point in her career, every working woman is going to be a business traveler. It might be a sales meeting or a big industry trade event. It might be a few towns over, or on the other side of the world. She might have to drive, or fly, or take a train. But as diverse as business trips can be, there is one constant: the need for a chic, stylish travel wardrobe.
No woman wants to show up at her destination looking wrinkled or frumpy. And she certainly doesn't want to appear as if she got dressed two decades ago. The trick is to find fashion-forward pieces that are light weight, wrinkle free, and can be easily mixed and matched to create perfect on-the-go outfits.
For over a decade, Anatomie has delighted chic jetsetters worldwide with stylish, wrinkle-free travel clothes for women. 
Here are a few absolute essentials that every woman should have when packing for a business trip:
Whether it's to wear on the plane, and then jump right into the first meeting looking like you just came off the runway, or to pair with a great jacket for that evening dinner party with clients, the right pair of travel pants is a key staple of the modern woman's travel wardrobe. Look for a pair that is comfortable enough to spend all day in, but sophisticated enough to work in a boardroom. Make sure it is made from a material that doesn't wrinkle easily, and in a neutral color such as black, white, or khaki to maximize the number of outfits it can be paired with.
We recommend Anatomie's mid-rise Skyler Travel Pant designed to be comfortable and breathable with an allover slimming affect.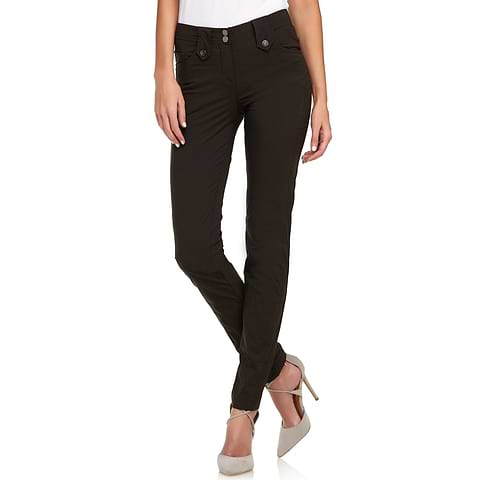 This style is offered in a variety of neutral colors, perfect for matching with any pattern or color on top.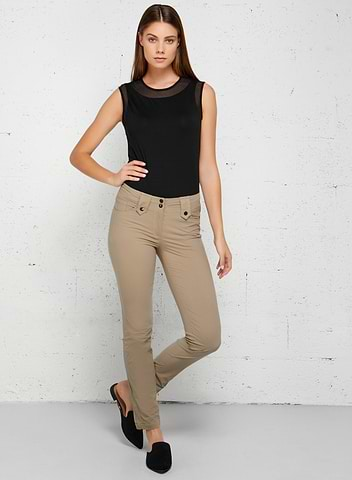 Like the perfect pant, you'll want to make sure your business travel top is a neutral color. Ideally, having a tank or cami, along with a long-sleeve option, is the best bet, since it opens up more options when trying to put together outfits once you arrive at the destination. Depending on the length of the trip, having one or two blouses in flattering colors to help change things up is also a great idea.
For a chic style, we recommend Anatomie's Flo Sleeveless Business Shirt crafted with a back mesh V-neck style.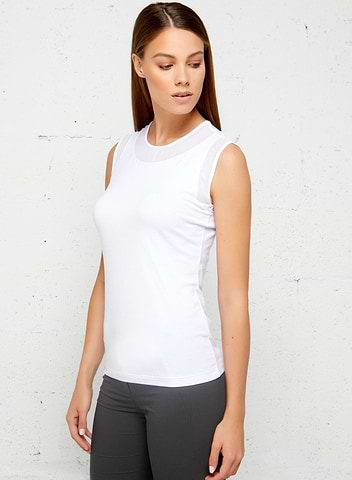 For travel to colder climates, we recommend the Beth Button-Front Shirt. This long-sleeve style is crafted with stretch woven fabric for a comfortably business travel professional style.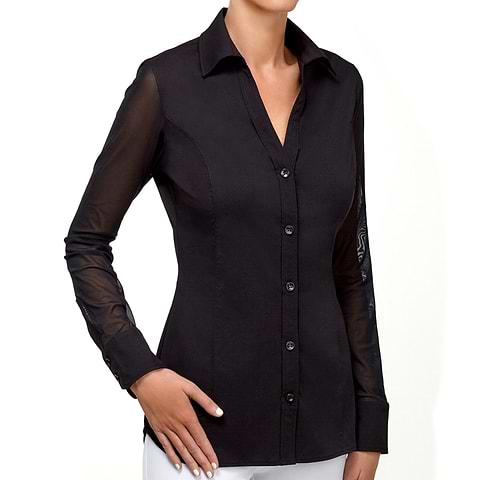 The odds are good that at some point you will need to travel somewhere cooler, which means having a jacket to wear. Throwing on that old windbreaker from college might be easy, but it won't win any style points. Instead, invest in a great foundation piece that fits well, and has lots of pockets to make organization on the go easier. It should also be wrinkle-resistant, but where the pants and tops will likely be a bit more neutral, feel free to have a jacket with a dark color, or a more interesting detail such as lace or mesh.
Anatomie's Kenya Safari Jacket is perfect for the practical professional seeking a versatile jacket for both style and comfort. This style is offered is a variety of neutral colors such as black, gray, khaki, and navy blue.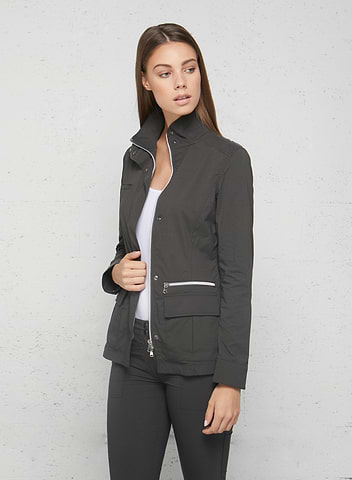 If you're traveling for business during the winter season, you might want a darker style such as the Lugano Asymmetrical Zip Front Jacket.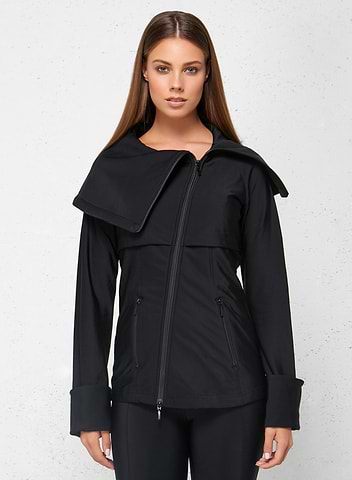 If these jackets don't match your style, visit Anatomie's travel jacket collection for a full list of lightweight, wrinkle-free travel jackets. Staying warm shouldn't mean sacrificing style.
Where the jacket is a piece to keep you warm, the blazer is a piece to dress you up. It should be a piece that can pair with all of your options, and ideally is a neutral color in it's own right, although there is something to be said about having a statement blazer that stands out. Just make sure it fits perfectly and like the rest of the wardrobe is wrinkle-resistant and easy to care for while on the road.
The final piece in the business wardrobe foundation should be a great dress that can be easily worn on a plane, paired with a blazer for a business meeting, or dressed up with jewelry for an upscale dinner. Make sure it is comfortable, fits well, is wrinkle-resistant, and feels as good as it looks. Like the other foundation pieces, the best bet is to get something in a neutral — there is a reason the "little black dress" is a classic — but don't be afraid to get something with a little bit of personality.
We recommend the Piper Shift Dress that can be dressed up or down for the perfect business travel attire.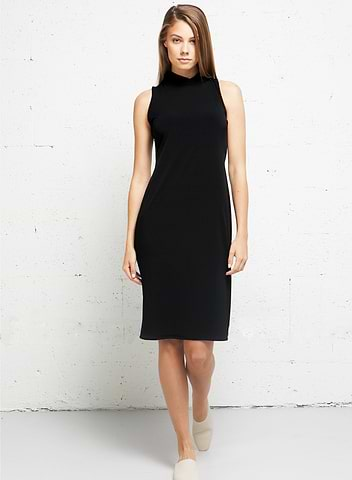 We also recommend the Marine Business Wrap Dress. It features a ruched wrapped front without a tie, making it even easier to look perfectly put-together.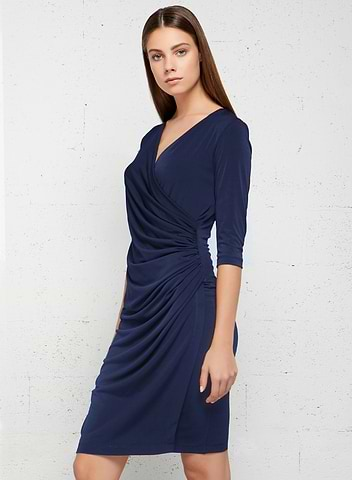 Finally, round out the business travel basics with a few statement pieces that can help transition the same outfit throughout the entire trip. Have a few bold, colorful jewelry pieces to complete a look and change the vibe on the go. Have a few more understated pieces for daytime professionalism. Pack a pair of pumps that will match every potential outfit, as well as a pair of flats — many business trips require walking around a venue, touring a plant, or just getting around an unfamiliar city. Having shoes you can spend a day in and still look great is a must. Throw in a few other accessories like the reversible travel belt.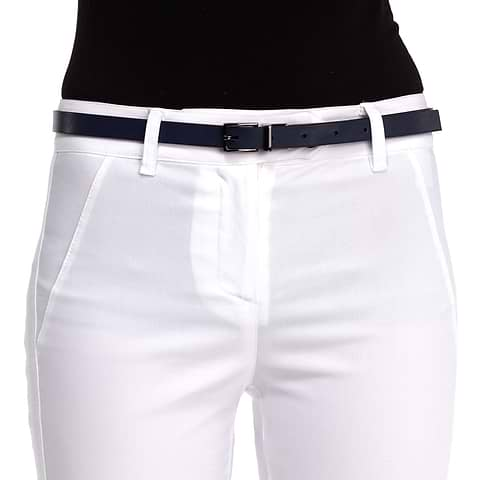 With just a few pieces, you can have a complete wardrobe that will leave you looking and feeling professional and stylish at the same time. 
Today's modern business traveler shouldn't have to show up looking anything less that stylish and put-together. By having a few basics ready to go, packing for every trip will be a breeze, and worrying about how you look will be something else marked as done on the travel checklist.
Explore the world with Anatomie's luxurious collection of women's travel clothing, including wrinkle-free travel pants, lightweight travel jackets, stylish travel vests, effortless travel dresses and comfortable travel tops. Combining everyday practicality with European style sensibility, our versatile collection of travel clothing serves as business attire, cruise wear, safari clothing, resort wear, women's golf apparel and spa attire.