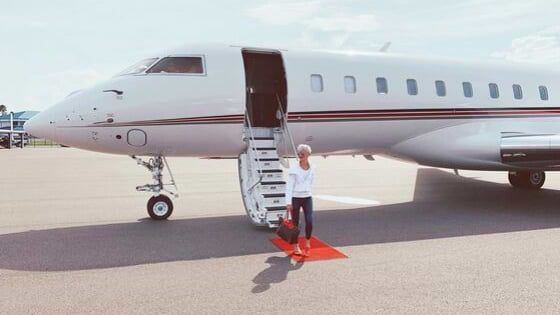 How to Find The Most Comfortable Stylish Airport Outfit
Anatomie Blog
25 Sep, 2019
Nothing puts a damper on the pleasure of traveling like being uncomfortable while walking to your gate, sitting on the plane, or picking up your luggage.
Over the past couple of decades, airport style has evolved from "dressing to the nines" to a focus on athleisure and comfort.  However, whether you're traveling for work or pleasure, you still want to utilize versatile airport styles that allow you to quickly transition to various activities after you've made your landing.
With Anatomie's travel fashion line of travel-appropriate clothing, you don't have to sacrifice style or comfort when choosing an airport outfit. You can put together attire that satisfies the desire to look sharp at the airport with an outfit that is nearly comfortable and flexible enough to wear to the gym.
If you are looking for the best travel outfit, here are a few essential items to add to your inventory:
1. Luxurious travel pants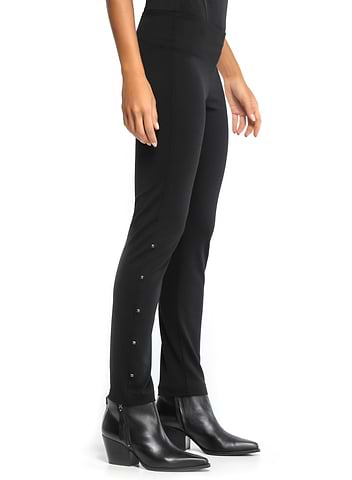 Anatomie's Italian-made Malibu Lux Studs Pant features a slim fit that is both sleek and modern with just a touch of edge by way of the metal stud detailing along the side. These pants are made from a silky, mid-weight stretch-jersey material that is wrinkle-resistant – and consequently, perfect for first-class travel. You can pair these mid-rise, flattering pants with any type of top, from a lightweight coat for exploring bustling city streets to a fancy top for a night on the town.
2. A stylish, layering tank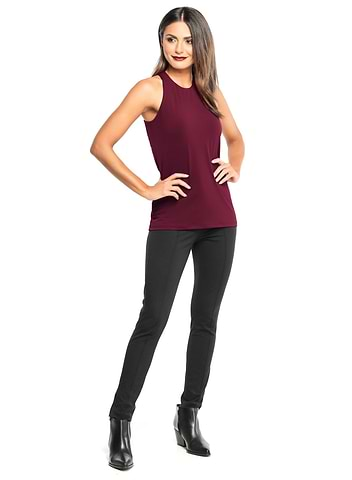 When it comes to comfortable airport styles, a cami-style travel tank is an essential addition to your wardrobe. Anatomie's slim-fit Winter Cami Wrinkle-Free Travel Tank is a rich crimson, perfect for the upcoming fall and winter seasons. It features a sleeveless design, with a modern high-rounded neckline that can stand on its own or be layered well with a travel jacket.  
3. Slim-fit pants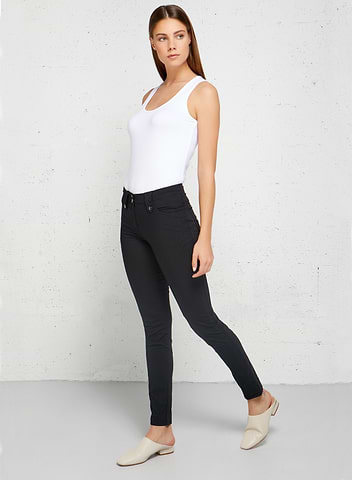 Described by Alex Jimenez, of TravelFashionGirl.com, as "the best travel pants for women," Anatomie's straight-leg Skyler Travel Pant is tailored for a curve-hugging, yet overall slimming effect. Fitted at the waist and hips and available in five stunning colors, the luxurious Skyler will keep you comfortable yet fashionable at the airport and after reaching your final destination.
4. A classic button-down shirt
Available in both black and white, the Beth Button-Front Shirt is a perfect addition to your suitcase, as it stays wrinkle-free and eliminates the need for ironing. It also is an ideal airport outfit if you are heading to a conference or business meeting upon arrival. With impeccable tailoring, including a pointed collar, two-button cuffs and a rounded hem, this modern, chic shirt pairs well with the Skyler Travel Pant and fits well under a winter coat or lightweight jacket.
5. A trendy top coat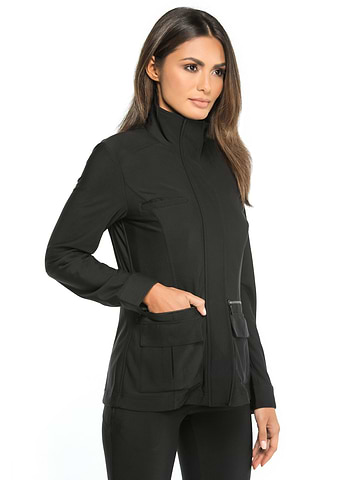 With winter fast approaching, it's important to include an elegant yet versatile coat that can be matched with a variety of airport outfits. The Kenya Cozy Fleece-Lined Jacket is a stylish black safari jacket with a high neckline and slim fit that is ideal for travel. Designed from a soft seasonal brushed lycra material, the coat is wrinkle- and wind-resistant.
Travel in style
With Anatomie's fashionable travel line, you can embrace the emerging athleisure, down-to-earth trend with ease, comfort and class. Adding a couple luxe staples to your wardrobe will prepare you to traverse the airport and enjoy your destination, no matter where and why you're traveling.
Tag us in your unique airport chic style using #EVERYDAYANATOMIE on Instagram for a chance to be featured!