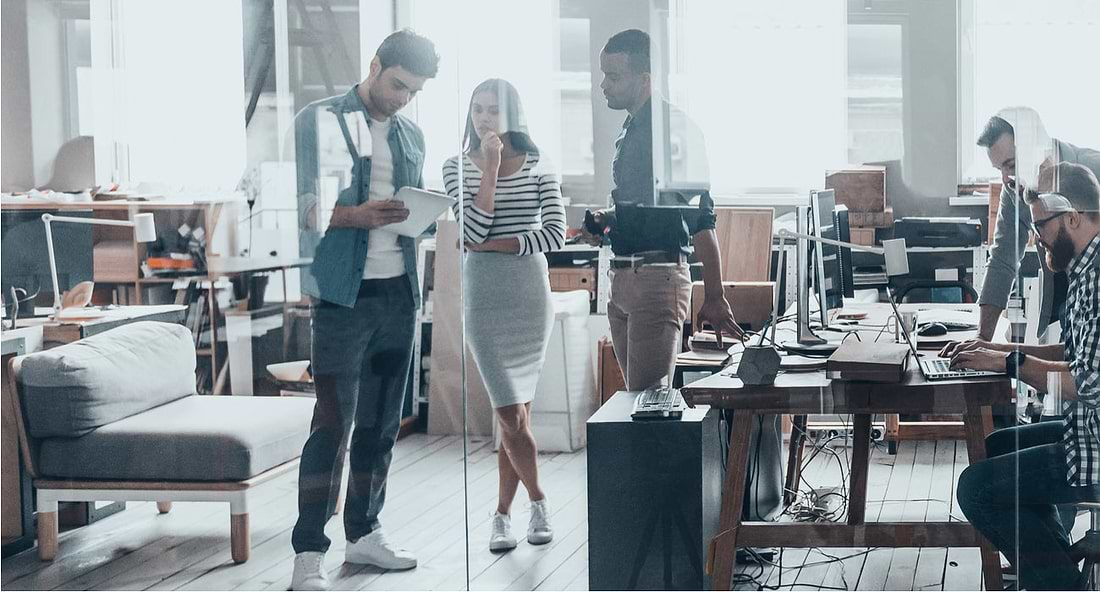 How to Look Stylish with Business Casual Attire
Anatomie Blog
13 Feb, 2019
Depending on your mindset, the phrase "business casual" will either leave you dancing for joy or dreading getting dressed in the morning. Trying to decipher if you are meant to go more "business" or more "casual" and finding pieces that straddle the multiple situational demands such a dress code usually accompanies can be challenging at best and downright stomp-around-the-closet-screaming at the worst.
But it doesn't have to be that way.
You might think of the Anatomie brand of clothing as a "travel" brand — and these pieces are great for travel! — the fact is that they also make up the foundation of the perfect business casual wardrobe as well. They offer style, comfort, form and function, and let you effortlessly navigate this overly-fraught fashion category with ease.
The Pants.
Frankly, business casual is usually code for "wear pants." In most situations with this moniker attached, you will want to have a solid pair of comfortable pants as your go-to wardrobe piece.
The Marisa High Waisted Pant above is perfect for those who prefer a higher rise, while the Luisa Skinny Jean Pant is ideal for those who prefer more of a "skinny jean" look.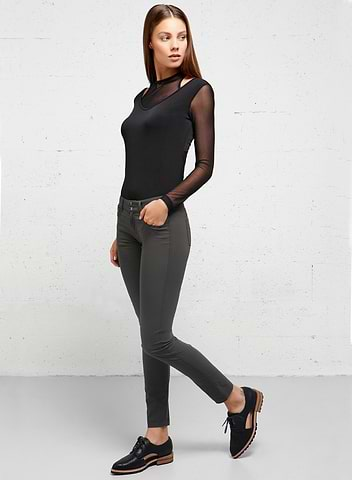 Both of these pants are designed to give you a slim silhouette, and both feature pockets designed to give you a place to stash your phone, business cards and lip gloss as you make your way through the day. They are wrinkle-resistant, which is a must for any business casual wardrobe. These pants will easily take you from the board room meeting to the after-hours cocktail and will still look like they are freshly pressed. Both styles also offer UPF 50+ protection, so if your version of business casual includes outdoor jaunts, you are covered.
The Skirt.
Sometimes pants just aren't the look you're going for. Maybe you want to err more on the business side, as opposed to casual, or perhaps you just prefer a good skirt to a pair of slacks. The Rita Pull On Fleece Skirt is a great option.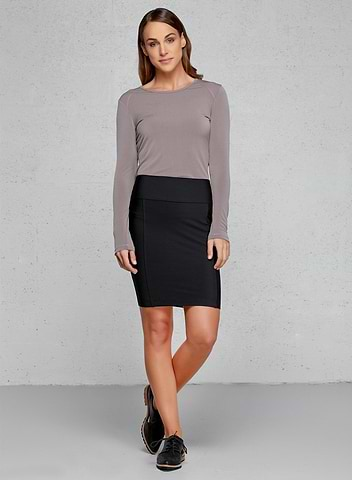 This sleek silhouette can easily be dressed up or down as the occasion requires, and is made with a stretch Lycra material that is wrinkle resistant. It also has a soft brush fleece interior to keep you warm and cozy while remaining polished and perfect.
The Shirts.
All great business outfits aren't just made up of pants, however. You will also want the perfect top to go with it, that blends style with comfort, and that can easily be dressed up or down, depending on what the occasion calls for.
There are two styles that every professional woman should purchase for business casual attire: the Beth Button-Front Shirt and the Budah Mesh Top.
The Beth Button-Front Shirt is a classic piece that will never go out of style. Every woman everywhere, no matter what situation you might find yourself in, needs a great, simple button down shirt. It can be dressed up with a jacket and the right jewelry, it can be dressed down worn alone with the perfect pant, and it can be anything in between.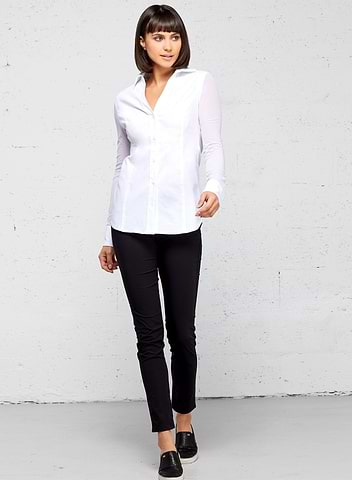 This particular version of the long-sleeve button down is the one you'll want to make you go-to piece because it is wrinkle-resistant and will look great no matter where you take it, how you wear it, or how long you have it on. It features a sexier neckline than your average button-down top, and has mesh sleeves that add a bit of sophisticated style to this classic look. If you buy one top for your business casual wardrobe, this should be it.
That said, consider adding the Budah Mesh Top as well, since it brings its own twist to a classic look, the simple black tee-shirt.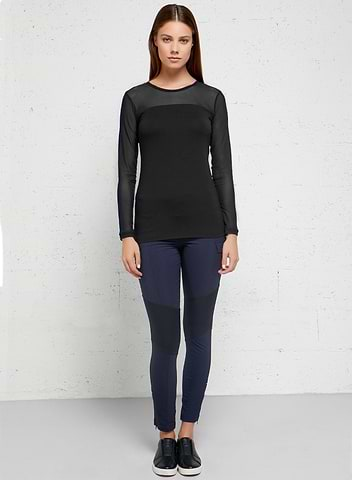 There is a reason this top is a best-seller — it is comfortable, it is figure-flattering and won't wrinkle as you move throughout your day, and it is the perfect length for modern business casual women. The mesh detail along the neckline and sleeves give this piece style and elegance, while maintaining a business ideal.
The Dress.
Okay, while "business casual" usually does tend to err more toward the casual than the business end of the wardrobe spectrum, that doesn't mean you shouldn't have at least one great dress ready to grab and go at a moment's notice. The Michelle Slim Fit Dress is that piece.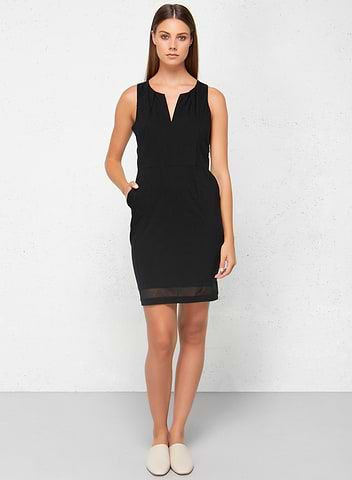 This sleeveless dress can be worn alone in warmer weather or when you want a bit more casual feel, or it can be paired with a great jacket to lend it more of a business vibe. It has a feminine, v-shaped neckline, and is designed to flatter your curves in all the right ways. Like the rest of the pieces you'll want in your business casual outfits, it is wrinkle-resistant so you can wear it all day and night without missing a beat. It even features something most business women would kill to have more of in their dresses: pockets. Finally, the piece is capped off with a mesh detail along the hem line, giving it a great visual detail that takes if from just another little black dress to a sophisticated piece to be jealous over.
The Cardigan.
A cardigan can be a lot of things — dressy, sporty, warm, stylish — and it can be worn with any combination of the above pieces. For business casual, one piece to consider making part of your staple wardrobe is the Cozi Wrap Travel Cardigan.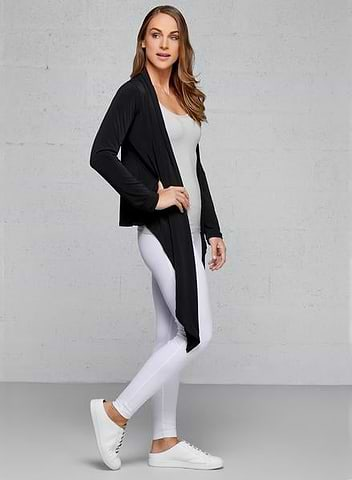 This wrinkle-resistant wrap sweater has a draped open front that can be tied to the front or the side, and has an easy, relaxed fit. It strikes the perfect balance between business and casual, making it a great option to keep in reserve for every occasion.
When it comes to professional attire for women finding the balance can be a maddening journey. By making these pieces part of your staples, however, you'll always know you have the perfect business casual clothes for any occasion, no matter how "business" or "casual" it might turn out to be.
But we want to hear from you! What are your go-to business casual pieces? What is on your wish list for the perfect business casual outfit?