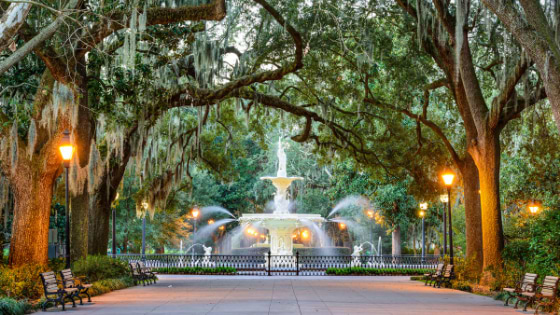 Cutest Hidden Gems in Savannah, GA
Anatomie Blog
31 Aug, 2019
Savannah is not only one of the oldest cities in the country and the first planned city in Georgia, but it is truly the gateway to the South. With the beautiful squares, romantic Forsyth Park and historical properties everywhere you turn, there's no shortage of ways to spend your time in this gem of a city.
Of course, there are plenty of tourist attractions and tours, but if you'd like to dig a bit deeper and take in sights other visitors completely miss, here are some of the best hidden cute gems in Savannah, Georgia. 
Before you go, remember to check out all of the Anatomie New Arrivals including camo travel pants from our pre-fall release! 
Colonial Park Cemetery
Bonaventure Cemetery takes all the headlines when it comes to historical cemeteries in Savannah (you should still drop by, it is truly beautiful), but Colonial Park has its own charm. Originally founded in 1750, it's loaded with history and is a beautiful and quiet destination to take in. 
Mata Hari's
Here's a destination that even locals don't know about. Here you'll find the Marta Hari's speakeasy on River street. It's a fun bar that's tucked away from view. And what's great here is that you won't be overcrowded. Locals generally don't go down to River (due to a large number of tourists), and tourists don't know Marta Hari's is even there. You might sneak in and discover you have it all to yourself. 
Perry Lane Hotel
When searching for a hotel you'll want something in the Historic District but that isn't right on the river. Perry Lane is that exact luxury hotel. It has one of the best views of the city and is one of the newer editions as well, so you'll have the latest in style and design to improve your stay. 
Grayson Stadium
Here is one of those hidden gems that's right in plain sight. Locals will know that it was once the home to the Savannah Sand Gnats, a single-A minor league baseball affiliate (and now home to t