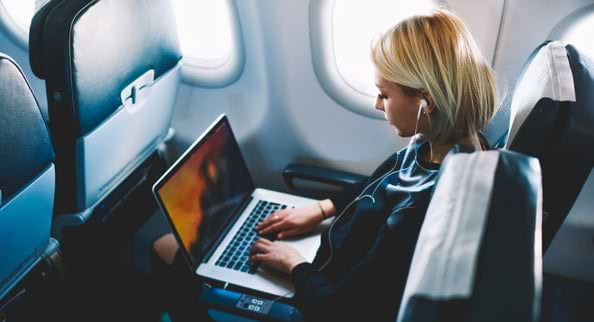 Airplane Outfits: Staying Comfortable in the Air
Anatomie Blog
30 Nov, 2018
Whether your travel plans take you to another state or another country, one of the few constants almost everyone experiences is that they will get there by airplane. Anatomie has made a business out of designing cool, comfortable travel clothes that ensure it doesn't matter if your flight is two hours or 12 — you will still look great and be ready to hit the ground running when you arrive at your destination.
Airport style is about more than just looking good, however. The best airplane clothes have a bit of stretch, ensuring you are comfortable for those long stretches of sitting. They are breathable, so it doesn't matter if the plane is hot or cold, you are dressed for the occasion. They are wrinkle resistant, because you want to arrive looking as fresh and ready to go as you did when you first boarded.
When you start to build your travel wardrobe, here are a few pieces you should consider having on hand for getting there and back.
Travel Vest
Let's face it, it doesn't matter whether you plan to travel when the mercury is breaking three digits, or if the world around you is white: airports and airplanes are unpredictable when it comes to comfortable temperatures. Every seasoned travel pro has a piece in their travel attire that can easily transition between hot and cold environments; the Delaney Travel Vest is one such piece.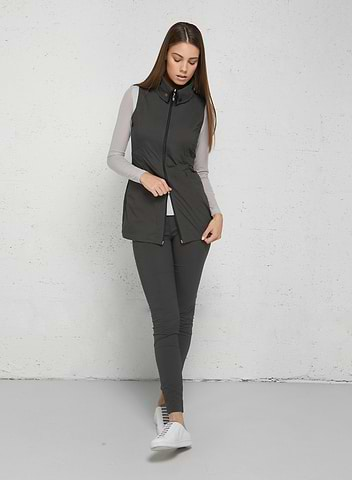 The longer length gives it a figure-flatter look, and it wears well unzipped to add visual interest to an outfit in warmer climates, while zipped up it provides an extra layer of warmth. It also has several pockets with zip closures, so you can keep your valuables close at hand. All in all, this is a piece that will become a "must grab" when putting together your flight outfits.
Lightweight Jacket
Not a vest fan? Are you the person who is cold while the rest of the room is melting? Then you might want to consider the
Kenya Safari Jacket
 instead.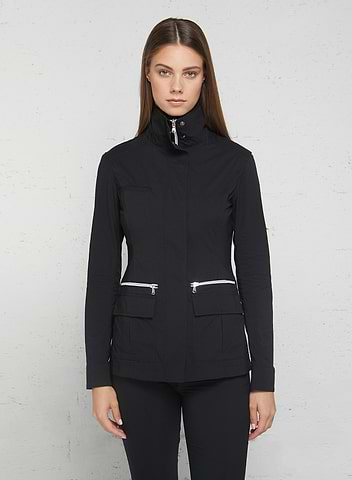 Not only does this piece provide a bit more warmth, it also comes equipped with more pockets, making it easier to keep everything you might need on your person at all times, rather than having to haul around a bulky bag that has to be stashed in the overhead compartment. It has the same figure-flattering length and cut as the vest as well, ensuring that whichever option fits your lifestyle best, you won't have to sacrifice form for function.
Skinny Cargo Pant
Now it's time to talk pants. There is nothing worse than being stuck in uncomfortable pants that are too tight in all the wrong places for hours on end. But you also don't want to sacrifice your style just to have a comfortable airplane outfit. One great option to consider is the Kate Skinny Cargo Pant. It has all the features of a cargo pant you expect — lots of pockets, a low-rise waistline, an ankle length — but this is a pant designed for the sophisticated traveler.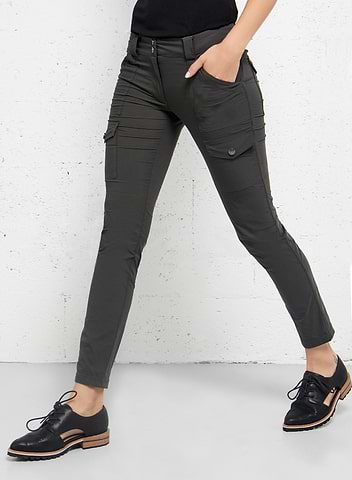 This pant is a bestseller at Anatomie for a reason; it is comfortable all day long, no matter where your journey takes you, or how many hours you spend above 10,000 feet.
Chino Mid Rise Pant
If you would rather something with a bit higher rise and a full length, the Techno Chino Mid Rise Pant is your best bet.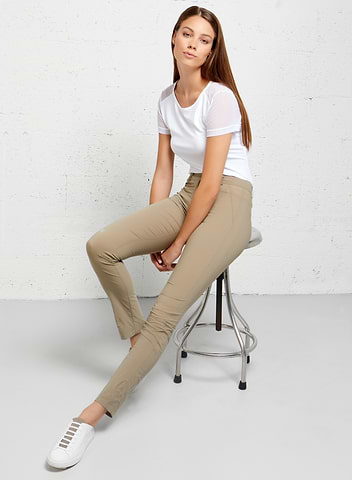 This pant has a bit more of a relaxed fit and a few less pockets, but it has a smart, tonal side stripe that adds a bit of oomph to any airport outfit. If you are a bit taller, this is the pant for you, since it is designed to flatter longer legs, but can be hemmed to suit everyone.
Slim Fit Tee
The final piece of your perfect travel outfit is the shirt. And the Melissa Tee will be your one true love. It has a sleek style, and is made with a soft jersey for the main body of the shirt, with mesh sleeves for the ultimate in versatility.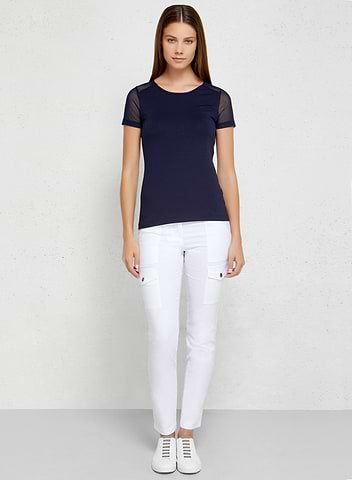 It is designed with a slim fit that flatters the body while remaining comfortable and wearable, ensuring you look as good as you feel.
Too often, we are told that when we travel we can have comfort or style, but not both. But travel clothes for women can absolutely look great while being comfortable enough to handle whatever and wherever life takes you. What is your best travel style tip? We want to know what tricks you use to keep yourself looking and feeling great in airports, on the plane and when you reach your destination. Share in the comments!