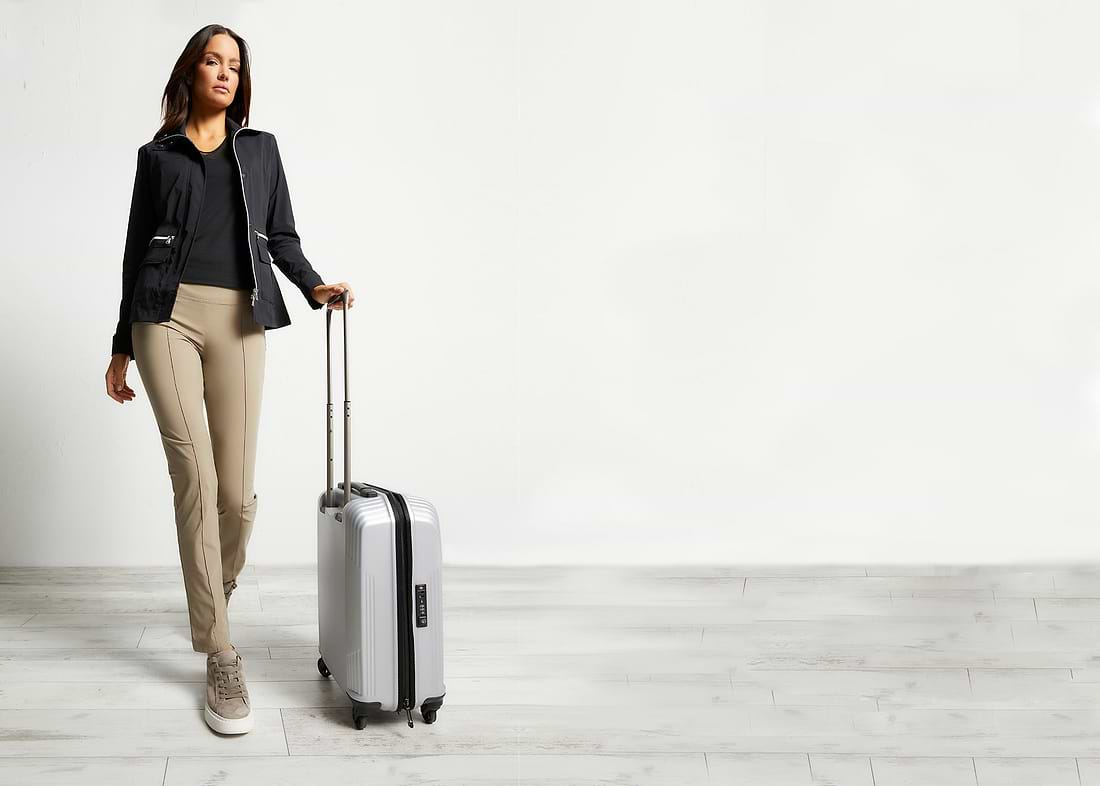 6 Reasons to Fall in Love with Anatomie's Premium Travel Apparel
Anatomie Blog
16 Feb, 2023
If you're wondering what makes travel clothing different than traditional apparel, it's that travel clothes are specifically designed with travelers in mind. However, not all travel clothing is created equal. Anatomie knows travel clothing, and once you experience the benefits of their premium, luxury pieces, you'll be hooked—no cupid's arrow required.
Here are just a few of the many reasons to start a love affair with Anatomie's luxury travel clothing.
Distinct European Style  
Anatomie's founders Kate and Shawn Boyer traveled the world searching for the latest apparel trends. Their love of travel and a sharp eye for fashion greatly influenced Anatomie's signature European style. Take their skinny cargo pant, for example. These stunning, best-selling pants fuse chic European sensibility with impeccable tailoring and comfort. The Kate Skinny Cargo Pants are ideal for travel and everyday life. 
Innovative Fabrics and Features 
Traveling freely is one of the greatest pleasures in life. Anatomie caters to frequent fliers by using the most functional fabrics on the market to ensure their customers travel in the ultimate luxury and style. Anatomie pieces are crafted from their signature lightweight material that won't shrink, fade, or wrinkle. Best of all, their clothing doesn't require ironing or dry cleaning, so your focus is on your travel experience, not caring for your wardrobe.
Incredibly Lightweight and Compact 
Ideal for easy carry-on, frequent fliers can enjoy the travel benefits of lightweight, go-anywhere fashion. Anatomie's slim pants for travel look and feel fabulous on every curve but take up much less room in a suitcase than heavy denim. You can pack multiple pairs of Anatomie pants instead of one pair of jeans. Plus, Anatomie's jackets and other pieces are incredibly compact and lightweight, meaning it's possible to travel around the world with just a carry-on.
Versatile and Multipurpose Pieces 
Anatomie pieces mix and match so you can coordinate endless outfit combinations without bringing your entire closet on your travels. Traditional outerwear is heavy and bulky, but a safari jacket is sleek and sophisticated. The Kenya Safari Jacket from Anatomie eliminates the need to pack multiple jackets, sweatshirts, and sweaters. Once you experience the freedom a lightweight, form-fitting, and flattering safari jacket offers, you'll change how you travel forever.
Modern and Timeless Fashion 
Anatomie believes in functional style, so you'll find yourself wearing your favorite pieces for years to come. Anatomie's travel clothing is modern, timeless, and seasonless. They use colors that easily translate from one season to the next, with durable fabric that can withstand any weather change.
Sustainable and Minimalist Approved 
Minimalist fashion means having minimal clothing in your wardrobe that feels right and brings joy. Anatomie is a sustainable brand as their apparel is timeless and seasonless, allowing shoppers to do more with less. For those who strive to live a more sustainable, minimalistic lifestyle, Anatomie aligns with those goals.
Get ready to fall in love with luxury travel clothes from Anatomie at anatomie.com