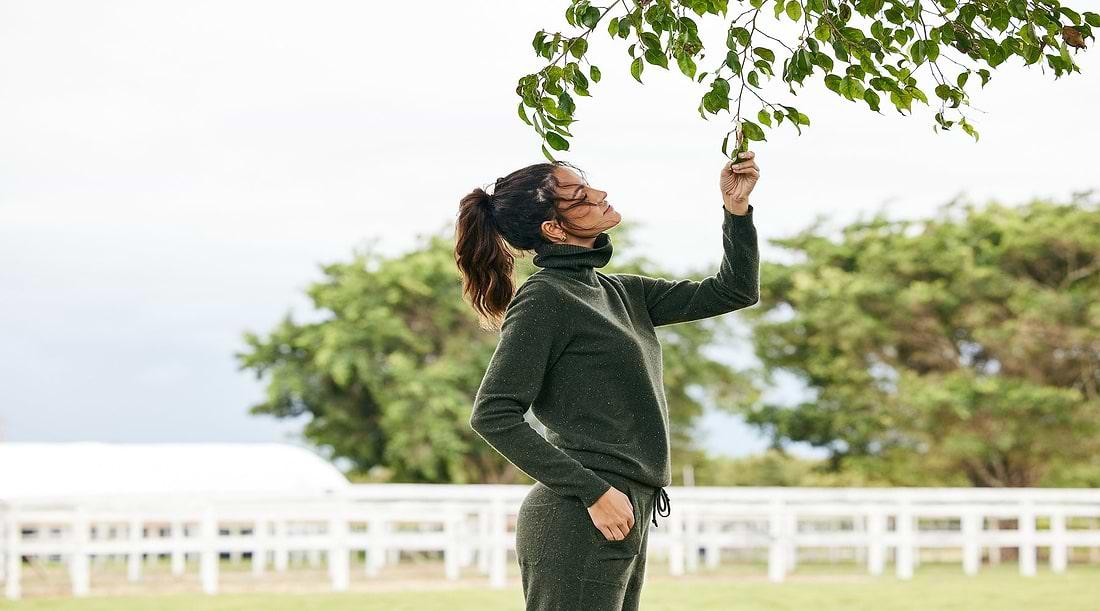 New for Fall 2022: 5 Luxurious Cashmere Must-Haves From Anatomie
Anatomie Blog
20 Sep, 2022
Temperatures are falling, so leaves are dropping, and so are the new luxury travel styles from Anatomie. You deserve a refreshed wardrobe featuring elegant, distinguished pieces that marry arresting looks with all-day comfort. With its fall collection, Anatomie just released a handful of new cashmere fashions ready to do wonders for your wardrobe. Shop the fall collection to find the perfect companion for your, or other favorite Anatomie pieces. Whether you know and love cashmere or are a newcomer to this exceptional fabric, you owe it to yourself to experience these five must-haves from Anatomie. 
Nicolette Cashmere Mock Neck Sleeveless Top
Those familiar with cashmere know to expect a heavenly softness. It's even lighter and offers superior insulation than ordinary wool. Anatomie takes those qualities to the next level with the Nicolette Cashmere Mock Neck Sleeveless Top. This sleeveless turtleneck provides a slim fit and sits below the waist. It's comprised of 95% cashmere and 5% elastane for a comfortable stretch. Wear it as a first layer or by itself for a distinguished, fashionable look. 
Missy Cashmere Cardigan
This timeless, versatile cardigan is ideal for keeping you comfortable on cooler fall days while maintaining your sophisticated look. Missy cardigan has long sleeves and was designed for a slim fit, sitting below the waist. No matter what's on your schedule, Missy is right for any occasion, whether you're working or relaxing at home. Missy looks fantastic with a skinny cargo pant like Kate and layers perfectly over Nicolette or Anatomie's Jackson Tank.  
Londone Cashmere Relaxed Fit Jogger
It's difficult to imagine a better way to stay cozy despite the chilly fall breeze than a pair of cashmere joggers. The Londone Cashmere Relaxed Fit Jogger offers a modern silhouette and cozy, elastic mid-rise waistband to keep you comfortable. You'll love the pull-on, drawstring style of these joggers, classic detailing like hip pockets, and the contemporary feel of fitted cuffs. Choose from chic colors such as black, oatmeal heather, charcoal, and Army green. 
Sade Relaxed Fit Reversible Cashmere Poncho
This beautiful piece is perfect for travel thanks to Anatomie's sumptuously soft, wrinkle-resistant cashmere. The Sade Poncho is cut for a classic poncho-style silhouette with a flattering neckline. Because the cashmere is anti-pilling, you can take this poncho on long trips without wondering whether it will hold up. Its relaxed fit and asymmetric hemline mean you get a premium fusion of cozy style, making this reversible poncho a true fall essential. When you're looking for elegant travel clothes for women, make Sade your first choice. 
Suzie Cashmere Hoodie
When the daytime highs start to dip—or even drop off dramatically, depending on where you live—you'll need a stylish go-to hoodie suitable for any trip. Whether you're getting settled in first class or just out running errands, the Suzie Hoodie offers a blend of fashion and comfort that will keep you looking and feeling your best each time you pull it on. With full-length sleeves, you can enjoy the feel of Anatomie's imported, 100% cashmere across your entire upper body. The ribbed cuffs and hemline complement Suzie's classic hoodie silhouette. 
Shop Anatomie today and start stunning in cashmere at anatomie.com