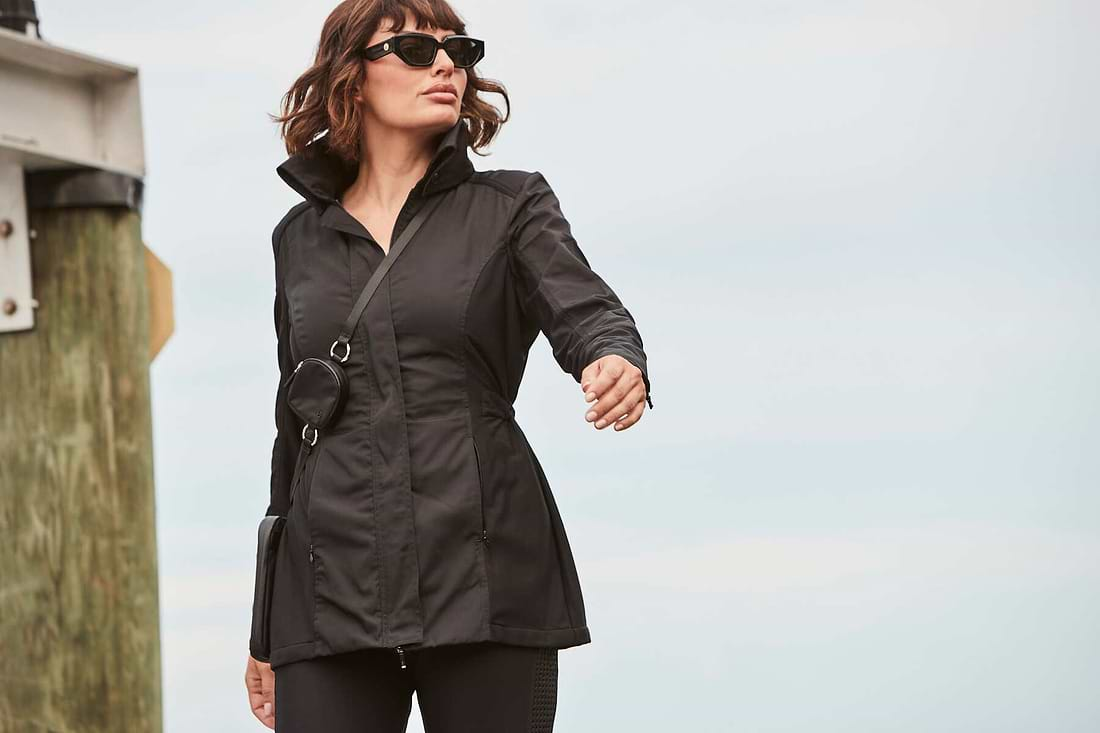 Getting Chilly? Shop These 3 Designed-to-Fly Jackets From Anatomie
Anatomie Blog
01 Dec, 2022
The weather may change as fall becomes winter, but your lifestyle doesn't compromise. Elevate your polished look this season with premium styles from Anatomie. The maker of your favorite skinny cargo pant has released a collection of must-have outerwear just in time for winter.
Anatomie's collections feature sleek tailoring and an impeccable fit for all-day comfort, whether you're headed to the office in Newark or embarking on an adventure in the Netherlands.
Discover your new favorite outerwear from Anatomie this season and wander the world in comfort. Start your shopping with this list of three lovingly designed, popular jackets from Anatomie.
The Sherpa Jacket
Anatomie's faux Sherpa Jacket will keep you warm with its chic look and two-way zip-front closure, whether you're embarking from a jetway, pier, or metro platform. The full-length sleeves look and feel great, plus they feature smart cuff detailing.
A slit pocket at the chest gives you a discrete place to store your essentials, while the high-collared neckline helps insulate you against the elements. Don't let the word "sherpa" throw you off—this is 100% polyester, so you can wear it confidently.
This jacket would match well with other Anatomie pieces like cold-weather travel pants, a cashmere turtleneck, or the cozy Bonnie Beanie.
Travel City Slick Jacket
This isn't just a jet-setting jacket—it's an everyday essential. Anatomie elevated cold-weather style with this sophisticated jacket made from breathable, mid-weight fabric. The Travel City Slick Jacket features windproof technology, and the interior is made of lavish brushed fleece that's so comfortable you'll find yourself inventing reasons to wear this jacket.
On blustery days, zip the collar into a high funnel neck to keep the elements at bay. The longer length helps you stay warm, while strategically located side stretch panels provide an overall slimming effect.
This jacket is wrinkle-resistant, so it travels easily, and it has plenty of pockets, so you're always ready for your next adventure.
Lugano Asymmetrical Zip Front Jacket
Anatomie struck the ideal balance of elegant form and practical function with this warm, comfortable jacket. Just at home in your neighborhood's winter market as it is at the ski chalet, the Lugano jacket delivers contemporary style with its offset zipper. Designed with softshell materials, this jacket offers enhanced breathability thanks to its ultra-stretchy fabric.
You also get a superior range of motion with this jacket, which makes it the perfect figure-flattering fit for whatever's next on your itinerary. The Lugano's elevated styling and thoughtful design put it among the top travel clothes for women in any season.
Keep the chilly weather at bay with elevated jackets from Anatomie, available at anatomie.com