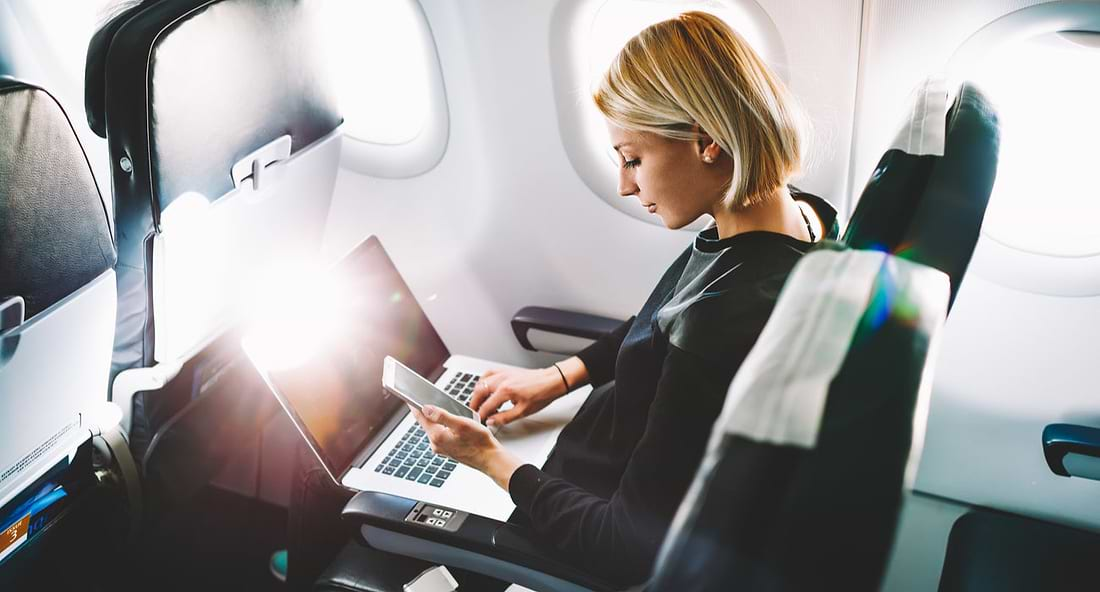 Discover the Perks of Traveling in Leggings
Anatomie Blog
07 Mar, 2019
If you have ever spent hours in an airplane, you know how quickly tight pants can get uncomfortable. Trapped in small spaces with buttons or zippers digging into your skin, or where fabric is pinching or rubbing you raw, with no way to escape, is very likely one of Dante's missing circles. But travel doesn't have to be uncomfortable, and travel pants don't have to be a choice between comfortable or fashionable.
Designer leggings are the answer, and the styles from Anatomie are some of the most comfortable travel pants you will ever own. High waisted leggings straddle the line between pants and leggings, and offer all the comfort of your favorite pair of lounge pants, with all the style of your favorite pair of dress pants.
There are two different styles to choose between — or you could get them both and have a more versatile travel wardrobe — depending on your own personal style and comfort.
The first is the Andrea Contrast-Panel Legging, and this pair wins the day just for being a pair of leggings with pockets, something that everyone who has spent any time traveling knows can be the difference between a relaxing trip and a stressful one searching for your most-used items constantly.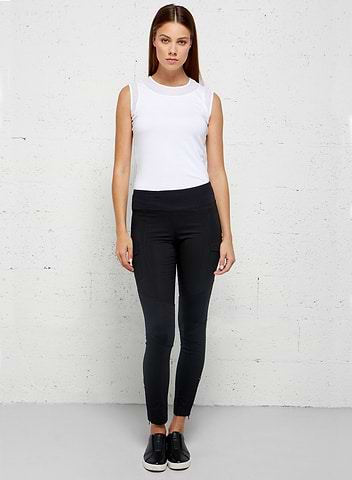 The Andrea leggings have a skinny fit, and are made with Anatomie's signature stretch fabric, designed to hug the curves in a flattering way, while remaining breathable and wrinkle-free. The leggings also feature a high-contrast panel across the waist and knees, giving them an interesting visual appeal that stands out from the plain, basic legging. This is a perfect legging to wear with several layering pieces, such as a long tee-shirt and jacket, so you'll be cozy and comfortable no matter how long you're on the road for, or what environmental factors you might face.
That said, if you are traveling in the winter, or you're the type of person to get cold on long flights, you might want to consider the Italia Faux Leather Legging instead. While the fit is also skinny, these high waisted faux leather leggings feature a fleece-lined Lycra material, so they are warm and cozy. These leggings also feature zippers at the ankles, making it a breeze to add or remove warm socks as you settle in for the long haul or prepare to disembark at your destination.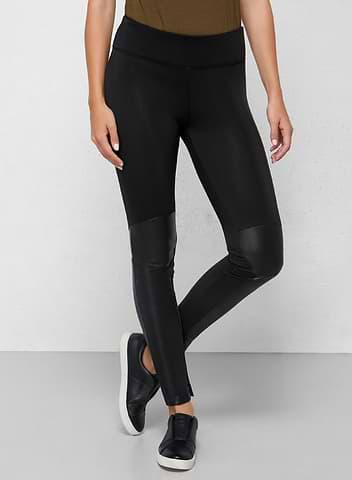 The bottom half of the Italia leggings feature a faux leather look, making them a stylish addition to your wardrobe as well. Like the Andrea, these are also wrinkle-resistant, so you'll look as great at your destination as you did at departure. Paired with a long cardigan or the perfect layering pieces, this is one pair of leggings you will want to live in full time, not just when you're on the move.
When you travel, is your favorite pair of pants actually a pair of leggings? What do you look for in the perfect travel pants? What are the most comfortable leggings you have ever owned, and what do you look for in a new pair? We want to hear from you!