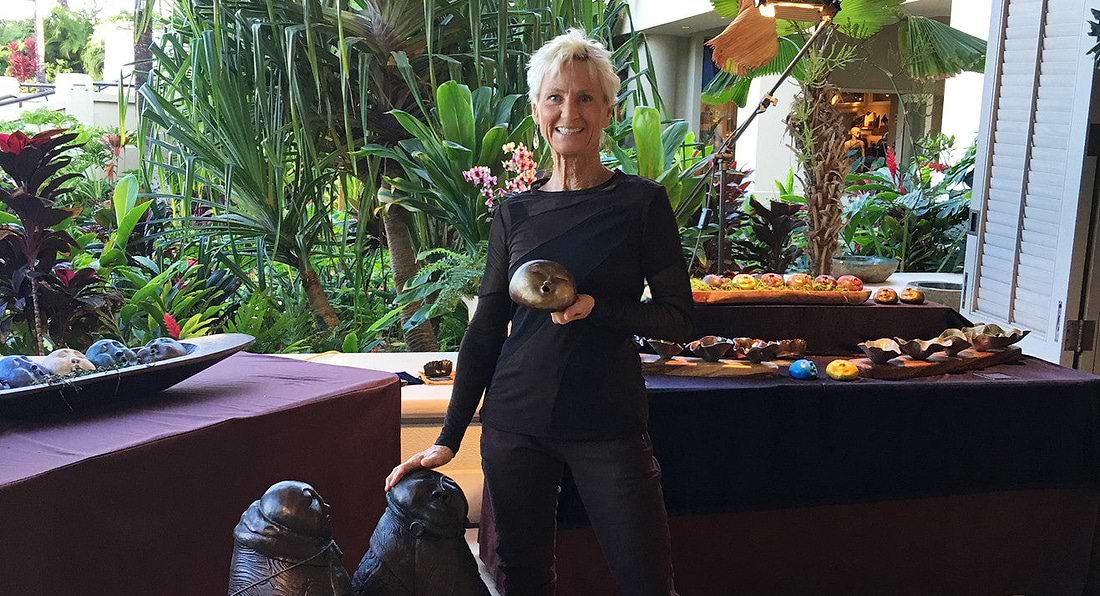 Travel Tuesday: A Maui Artist Who Lives in Anatomie
Anatomie Blog
23 Jan, 2017
During our holiday pop-up shop at Four Seasons Resort Maui at Wailea, we met one of the island's most talented artists. Marylyn Holland is a clay and bronze artist who specializes in meditation art, which she describes as "bringing serenity into one's space." A featured artist at the Four Seasons, she is known for her unique bronze meditation faces with names like "Singer", "Dimples" and "Prayer." Stop by Marylyn's space at the resort and you will often find her wearing Anatomie, like the mesh and jersey Komi Top pictured here. "If clothes aren't comfortable, what's the point?" she says. "Anatomie is easy to wear for travel and everyday and looks sophisticated to boot."
As a Maui resident for the past 17 years, Marylyn shares her favorite things to see and do on the island.
Go-To Restaurants…
"For breakfast, I love Kihei Caffee, which opens at 5am and closes at 2pm. Split every entrée! All the omelets are a winner—I just tell the cook to throw something in them.  But the pancakes are the best. They're huge, light and fluffy and made with lots of butter. You must try the coconut syrup on top.
For lunch or dinner, I recommend Kula Bistro. It's a great road trip up country to Oprah's neighborhood [on the slopes of Mt. Haleakala]. The portions are very generous there.  Consider splitting an entrée because the dessert bar is amazing. My favorite is the coconut cream pie.
I recently discovered a great new place for Pad Thai noodles. There's a food truck across from the Costco gas station [in Kahului] called Thai Me Up. There are several other food trucks offering ceviche, local grinds [Hawaiian food] and tacos."
Can't Miss…
"Sunrise or sunset on Haleakalā [a dormant volcano in East Maui]. Bring hot drinks and a warm jacket. Blankets and chair are optional."
Be Sure to Stop By…
"The Worcester Glassworks in Kula is run by an amazing multi-generation family of glass blowers. Hopefully the glory hole is burning when you visit. It's quite fun to watch them in action in their beautiful compound with a majestic view.
Also visit the artist Kari McCarthy in Kula. She captures light in serene vistas via the stroke of a brush.  She literally makes colors sing.  One of my top three artists for sure.
Wood sculptor Dennis Williams is also in Kula. His studio, located along a ridge dotted with cottages, is uniquely hand-built by him.  His angel women are breathtaking forms made from local woods."
Why I Love Anatomie…
"If clothes aren't comfortable, what's the point?  Anatomie is easy to wear for travel and everyday and looks sophisticated to boot."
Favorite Anatomie pieces…
"Tops with sheer long sleeves [like the Buda Mesh Top or Kim Mesh-Sleeve Top] . As I'm older with sun-damaged arms, I appreciate the coverage without sacrificing comfort."