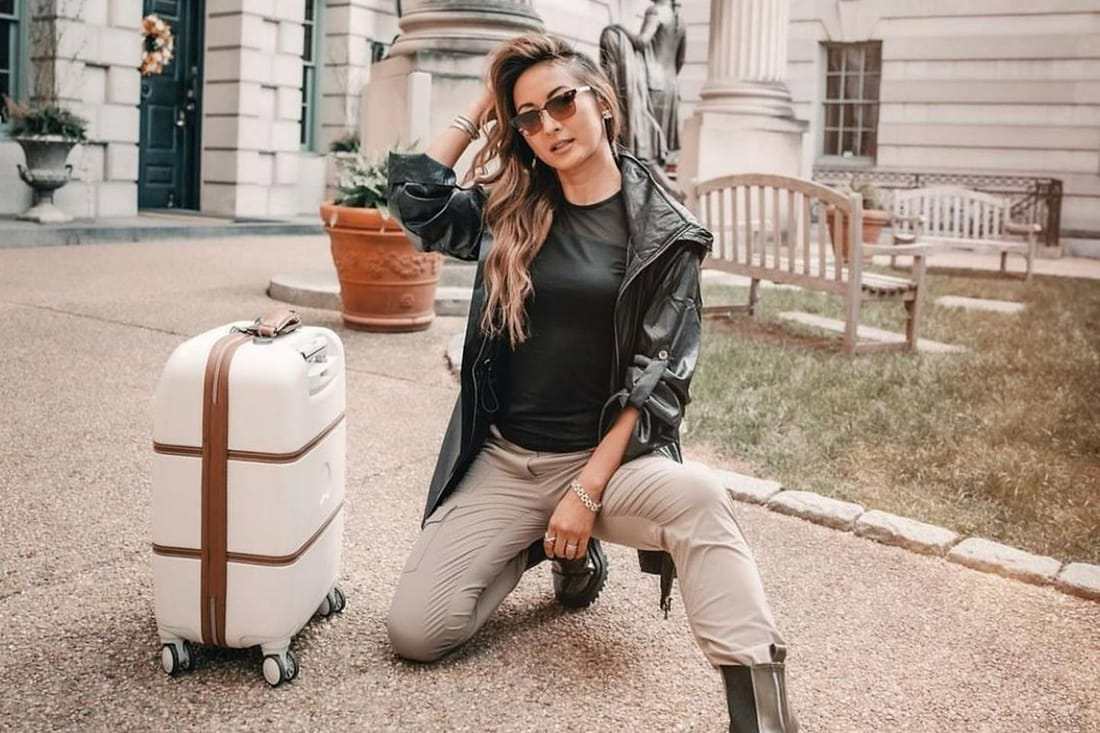 Style Secrets Chic Travelers Share in Common
Anatomie Blog
13 Oct, 2022
Decades ago, if you boarded a plane, you'd see everyone dressed to the nines. Suits, dresses, you name it, it was worth looking your best for air travel since it was a special event. While air travel is far more common today, it seems that most favor comfort over style when planning travel outfits. Why should you have to compromise? The right apparel and outfit coordination can keep you looking your best through long security lines, comfortable during intercontinental flights, and chic once you reach your destination. Here's how it's possible.   
Prioritize Comfort First 
If you aren't comfortable, it shows. Traveling requires several hours of sitting and standing, so it's always best to wear comfortable clothes. That said, maximizing comfort doesn't mean putting on pajamas or sweatpants. Polished and sophisticated travelers are born by refusing to skimp on style or comfort. They are intelligent, savvy shoppers who understand the importance of investing in quality, well-made travel clothes for women that allow movement without losing shape.  
Celebrate the Luxe Lifestyle 
Luxury travel attire is more than clothing—it's a lifestyle. It's the process of packing modern, timeless classics that can be mixed and matched to suit multiple settings. Whether in an upscale resort or on a business trip, wearing luxury travel clothes can make your travels easier. If you frequently travel for work or pleasure, learning to dress in an organized way will allow you to express an elevated, stylish look without the burden of lugging around your entire wardrobe. 
Choose Quality Above All Else
All clothes should feel premium, but the quality of the fabric matters even more for travel apparel. Traveling can be hectic, which is why your apparel should be effortlessly manageable, requiring no ironing or dry cleaning. A safari jacket is a perfect example. This fashion-forward piece is lightweight and highly versatile and can replace the need to pack alternative outerwear pieces. A high-quality safari jacket made from luxury materials also provides a sleek, stunning silhouette that will be the envy of the airport. Splurge on versatile travel clothes that go further, like pieces developed in France that are wrinkle-free, moisture-wicking, quick-drying, and durable. 
Wear Your Clothes with Confidence
Clothing affects confidence. Looking and feeling our best makes us walk a little taller. Sophisticated travelers portray a self-assured image that is hard to ignore. When they arrive at their destination, they step off the plane wearing thoughtfully crafted pants for travel that aren't a wrinkled mess. When you own the proper collection of travel clothes, you can go from the airport to an upscale restaurant without stopping at the hotel to change your outfit. 
Capturing that successfully chic vibe while traveling is easier than you think. Begin by building your travel wardrobe to include a few quality pieces that can be used in a wide range of versatile ways, like a safari jacket and pants for travel designed to last and look flawless. 
About Anatomie
Explore the world of Anatomie, a luxury travel clothing brand offering lightweight, wrinkle-free travel clothes for women and men. Kate and Shawn Boyer, Anatomie's founders, have created functional yet chic travel clothes that are timeless and effortlessly comfortable from the airport to your final destination. Anatomie's distinct European styles, like the sleek Parisian silhouettes of the Celine Ankle Pant and the Kate Skinny Cargo Pant, are perfect for travel and everyday life. Anatomie partnered with fabric manufacturers in Italy to ensure that their materials are manufactured to the highest quality standards and are backed by a lifetime guarantee. Get ready for new adventures this fall with luxury travel clothes from Anatomie.
Look effortlessly chic with travel clothes for women from Anatomie at anatomie.com
​