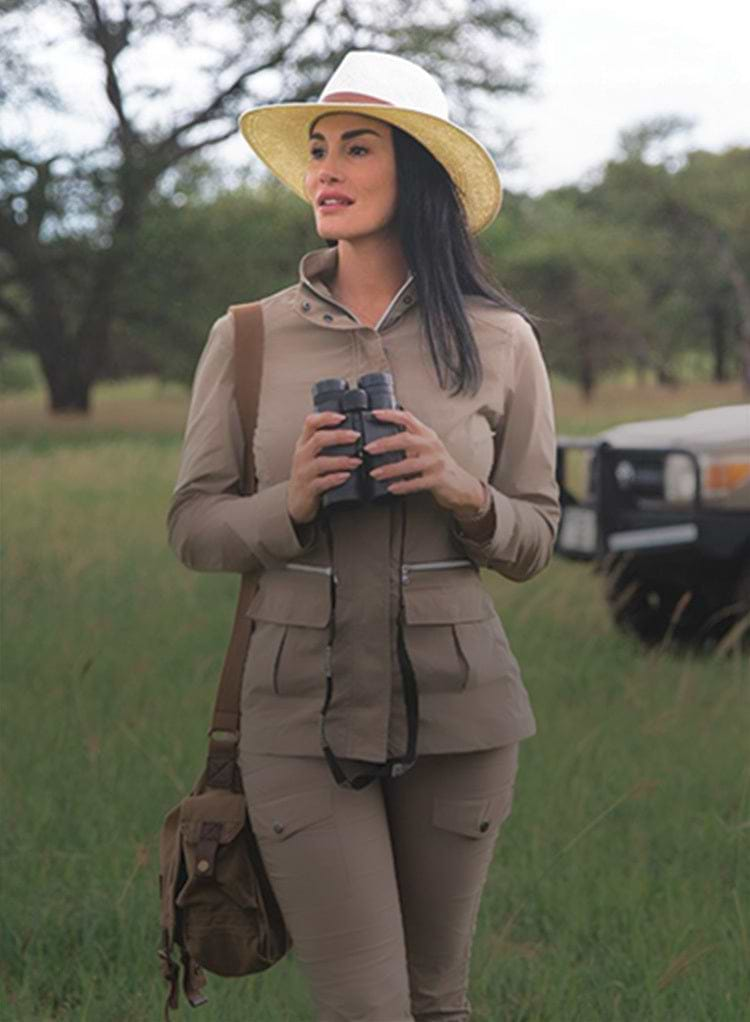 5 Ways to Style a Safari Jacket
Anatomie Blog
13 Sep, 2022
The safari vibe never goes out of style. Like many classic pieces, the safari jacket has its roots in military outfits. Often mistaken for a utility jacket or field jacket, this versatile and practical wardrobe staple coordinates with nearly everything and is appropriate for many occasions. This seriously chic fashion piece is easy to style up or down. Here are five styles to try.
1. Endless Explorer
The safari jacket's sleek styling provides a flattering feminine fit. Outfitted with plenty of pockets for stashing essential travel items, you'll arrive at your destination ready to explore. The best aspect of splurging on a fashion-forward safari jacket is the ease of pairing it with your travel attire. Coordinate with your favorite travel clothes for women, like skirts, pants, and shorts, and you won't need to pack an additional jacket for your trip.
2. City Sophisticate 
Move over blazer; a safari jacket is all you need to stroll the city blocks in style. Pair your jacket with your favorite shoes, whether those are crisp white sneakers, fashion boots, or high heels, along with your comfortable, lightweight, wrinkle-free travel pants, and away you go. Add a touch of sophistication by carrying a sleek tote bag or clutch. You can add a fun printed scarf or hat during those cooler days. 
3. Office Chic
A safari jacket is perfect for a casual business environment or casual Friday. Pair it up with a dress, skirt, or pants to complete your office chic vibe. Best yet, you can easily transition from the office to a dinner out, as quality durable materials help maintain a crisp, wrinkle-free appearance, even after a full day of work.
4. Weekend Warrior 
Busy on-the-go women need a safari jacket that can keep up with their hectic lifestyle. No matter what weekend adventure awaits you, your coat is ready for take-off. Whether you pair it with jeans, shorts, dresses, leggings, sporty sneakers, or pants for travel, you can be confident your safari jacket is worthy of tackling any weekend activity.
5. Fashion Trendsetter
The safari jacket pairs perfectly with any essential pants you already have in your closet, leaving you plenty of room to glam it up. Make a bold fashion statement by experimenting with various color and print combinations like an animal print or bright colored top under your neutral safari jacket. Elevate your look by accessorizing with elegant heels or strappy sandals, bold jewelry, or striking complementary color combinations. 
If you want a piece of outerwear that can fit seemingly every situation, you need a safari jacket. Whether you're traveling or out and about for weekend errands, it will keep you looking chic no matter where your day takes you. Invest in quality from a brand that backs their products with a lifetime guarantee. 
About Anatomie:
Anatomie puts style, travel, and luxury in the same sentence. Offering a variety of carefully designed and tailored pieces ideal for travel and everyday life, Anatomie lets you explore the world in style. Anatomie's luxe, wrinkle-free travel clothes are timeless, durable, and easy to mix and match. Thanks to their lightweight, low-maintenance material, you can travel in style with quality attire that takes up less space in your suitcase. Anatomie designs their apparel with the modern traveler in mind. By offering comfortable travel clothing that doesn't require dry cleaning or ironing, you can spend more time exploring and less time fussing with your wardrobe. Arrive at your destination looking polished and sophisticated with beautiful, modern travel attire from Anatomie. 
Find your new favorite safari jacket from Anatomie at anatomie.com